Wednesday, June 08, 2005

Deyrolle
Yesterday, my friend and I attended our last French class for the school year and decided to visit a museum in the afternoon. We took the bus to the other side of town and walked around St. Germain before finding the museum. If it's Tuesday (or Monday), there is a high chance that the museum you plan to visit is closed. We were thinking we should check before we left, but we were being spontaneous... Unfortunately, the museum was closed.

So instead we walked down rue du Bac, a street in the 7th that leads to the Seine and has some lovely shops. My friend, who's leaving Paris this summer had rue du Bac on her list of things to do. So we meandered down the street... looking at old poster stores and linen shops. Rue du Bac is also a street that Adam Gopnik mentioned a lot in his book Paris to the Moon (I've mentioned this guy so many times I'm beginning to realize how much of an impact his book has had on my life in Paris). One store that Mr. Gopnik loved to visit with his son was Deyrolle.





I hate to even blog about Deyrolle because it's one of those lesser known places that everyone knows about. Does that make sense? When you mention Deyrolle you always get an "oh, that place" kind of response. It's got an interesting reputation. When I put Deyrolle into a google search, the first thing that came up was a site proclaiming Deyrolle as the "strangest shop in all of Paris." It's a taxidermy shop and much more.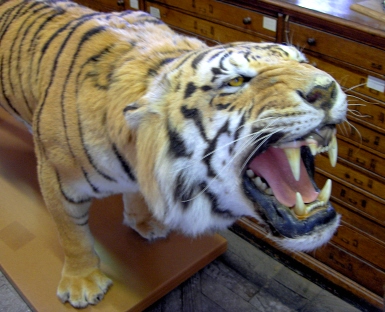 As I entered the store, they had two stuffed standing deer in gardening aprons. This isn't your typical store. Deyrolle has been located at it's current location since 1881. The store is now owned by the Le Prince Jardinier company, which is based on the main floor (and they apparently think it's funny to dress deer up in aprons). Deyrolle and all the stuffed animals are upstairs.

Upstairs you find all sorts of animals in all sorts of sizes....a lion, an elephant, birds, a zebra, cats, dogs, butterflies.... you feel like you're walking through a natural history museum.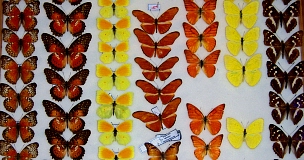 This is an great place to come on a rainy day with kids, especially if your children like bugs and animals. Since it's a store, there is no charge. However, if the weather is nice, I'd head to the Eiffel Tower or one of the many other interesting places Paris has to offer.

-- said Auntie M in Paris
4:26 PM

Comments:
I came upon your site while surfing the internet late last night. I find your blog very interesting. I spent a month in Paris in July 1997 studying law abroad but was not able to explore as much as I wanted.
I now live with my husband in Aviano, Italy where a good number of Americans live and work due to a military base being close by. My husband is not active duty but a civilian (he is retired USAF). I am planning a trip to Paris when his daughter comes visit in July and would like to ask you a couple of questions of the La Defense area. May I e-mail you or ask you the question directly on this blog?
#
posted by
Stefani
: 2:11 AM
Post a Comment