Monday, June 06, 2005

Picassiette
After touring Chartres cathedral and eating some lunch, we took a short bus ride across town to
La Maison Picassiette
.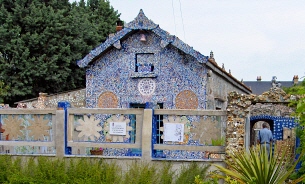 Raymond Isidore built his home in the 1930, shortly after getting married to a woman with three children. In 1938 he started decorating his home with mosaic. He is quoted as saying "I built my house first of all to put a roof over our heads. Once the house was completed I went for a walk in the fields and it was then that I saw by chance little bits of broken glass, fragments of china, broken crockery. I gathered them together without any precise intention for their colors and sparkle."
At first he planned to decorate the walls with these colorful fragments. However, the decoration became a devotion and eventually he created mosaic decorations on the floors, ceilings and every piece of furniture. Really,
everything
is covered with mosaic in
La Maison Picassiette
. It kind of made the group wonder how his wife put up with this obsession, even if it was art. It was their home!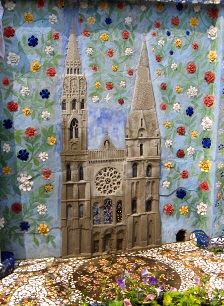 Chartres mosaic in the front yard.
As the work on his home continued Isidore earned a derisive nickname: Picassiette. This name was a double entendre....first because the word means thief of plates (pique-assiette) and second because of the play on Picasso and plates (Picasso-assiette). According to some reports, Isidore used tens of thousands of broken plate pieces for his mosaic home.
A graveyard sweeper by day, Isidore devoted somewhere around 25 years, 29,000 hours and 15 tons of crockery on his project in an effort to escape the monotony of his everyday existence.
This was by far one of the most interesting and unusual places I've been to because it was just so odd. I love mosaic's and Isidore's work is beautiful, but I couldn't quite get over that feeling that he must have been a bit off or completely obsessed to have accomplished this amazing home. But others must think that this place is worth a visit.... something like 30,000 people tour Isidore's home every year.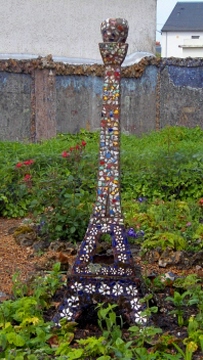 Eiffel Tower in mosaic... backyard garden.
-- said Auntie M in Paris
10:02 PM

Comments:
Ah, it's so great to read your blog again, Auntie! Thank you for reading mine while I was in Italy, I loved your comments! What's so unfair is you live in Europe and do stuff like this regularly, and I had to come home to humid, miserable Florida. Seriously, the weather here is awful. It was sunny the entire time I was in Italy... I think I'm paying for it now.
I do love that Eiffel Tower mosaic. Great pictures, as always. At least I have an arsenal now of 500 to try and top you!
#
posted by
Joe
: 11:19 PM
Post a Comment