Friday, June 10, 2005

Cheminee d'Aeration
I met up with some girlfriends last night at La Defense, where they work. It was a lovely, warm evening and they were having drinks outside near the most interesting and colorful tower.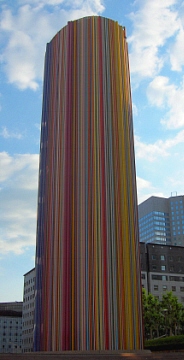 The tower is called Cheminee d'Aeration by Raymond Moretti. This tower sculpture, built in 1990, is nearly 100 feet high and comprised of concrete and fiberglass. There are apparently 700 narrow, colorful fiberglass tubes surrounding the tower.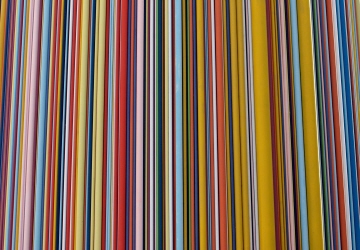 A close up of some of the colorful tubes.

Even though it was nearly 8pm, it was still very light out and I was able to take a few pictures. My friends laughed at me and told me that tourists always take their picture near this tower. Aside from a big mall and offices, there isn't a whole lot to see at La Defense (if there is, please let me know) so I can understand why this tower gets a lot of attention.... To be fair, there are a few other outdoor sculptures and fountains worth checking out if you happen to be at La Defense.

Raymond Moretti... a painter, poster artist and sculptor died last week in Paris at the age of 74.

-- said Auntie M in Paris
10:05 PM

Comments:
Yes, this tower is cool. I note, however, you didn't mention the next tower along which is covered in about 100 plants, all 100% dead. Apparently some failed experiment in eco-urban design...
#
posted by
Taupe
: 1:28 AM
Post a Comment