Saturday, June 11, 2005

Gemini
I like to tell people that if I were born 5 days earlier (and my mother's due date was in May!) I would have been born on 6/6/66 at 6pm. I know that the 666 thing is not necessarily a good thing (and my parents most definitely thought I was a "devil" at many points in my childhood), but I always thought it was cool.

For any of you lurkers who have never left a comment (and of course you regular commentors!).... I expect one today! Pretty please?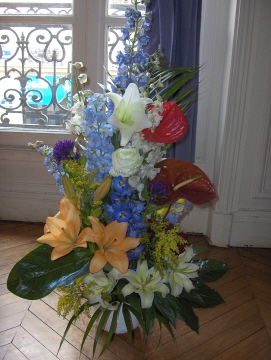 Flowers that arrived today from my US sister.

-- said Auntie M in Paris
11:14 AM

Comments:
Happy Birthday!
Ever since I read your diatribe on French parc personnel and their campaign to keep people off the grass I've been meaning to post and tell you there is a Canadian gravestone in Montreal which says, "Please Walk On The Grass." It belongs to a former Park Superintendent.
#
posted by : 2:15 PM
Post a Comment