Monday, June 13, 2005

GOAL
GOAL is an international humanitarian agency dedicated to the alleviation of the suffering of the poorest of the poor. GOAL works towards ensuring that the most vulnerable in our world and those affected by humanitarian crises have access to the fundamental needs and rights of life, i.e. food, water, shelter, medical attention and primary education.
My friend helped organize a fundraiser for the charity organization
GOAL
. The event was held Saturday night at the
Hotel Concorde
at Porte Maillot.
So my husband and I got dressed up (which believe me is a rare event) and I even wore make-up to have a nice evening out with our friends. We had a champagne hour with
Moet et Chandon
(delicious!) followed by your typical fare when cooking the same food for 300 people -- salmon for an appetizer, Irish beef and potatoes for the main course, and a chocolate cake for dessert.
After the dinner there was an auction. Two friends threw caution to the wind and started bidding on items they liked. One was a
John Galliano
bag that looked like you were carrying around a small sheep that hadn't been sheared in a while. My other friend bid on a piece of art. They were both happy to have bought something while at the same time giving money to a good cause.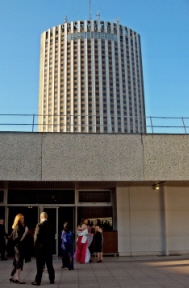 The Concorde Hotel
-- said Auntie M in Paris
9:17 PM

Comments:
Kudos to your friend for helping to organize the event. And to you for supporting it. Any organization that works to put food in the stomachs of hungry people is to be treasured.
#
posted by : 11:41 PM
Sounds like a ton of fun!
(Even though make-up was applied *wink*)
#
posted by
BohemianMama
: 1:58 AM
Ingredient Sleuth, Thank you. I hadn't heard about GOAL before meeting my Irish friend, but it seems like a really great organization.
BM, It was fun... but I hate taking that mascara off! There must be a better way...
#
posted by
Auntie M in Paris
: 11:22 PM
Post a Comment