Saturday, June 18, 2005

Gare St Lazare
We met at metro Liege to start our tour of the Gare St. Lazare area. Our tour guide told us that rue Liege used to be the place men would come to find bordellos in Paris. The doors of these places remain, although the businesses inside have changed.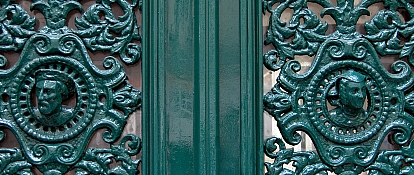 This was the door of a lower class bordello. The doors were refurbished years ago and the panels were placed on the wrong side -- the faces are supposed to be looking at each other as lovers do. These faces are supposed to represent
Abelard and Heloise
, the scandalous lovers from the 12th century. You would have known that the doors opened the way for another type of illicit love... prostitution.
After rue Liege we walked down to rue Moscou to find where the French painter
Gustave Caillebotte
painted his famous painting...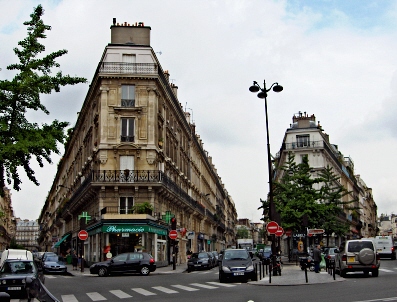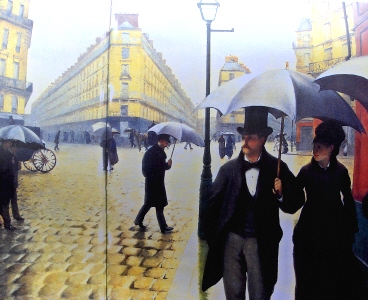 "Paris Street, Rainy Day"
Caillebotte's most intriguing paintings are the ones of the new broad Parisian boulevards. He was trained as an engineer by profession and liked geometry in his paintings.
Interestingly, Manet and Monet also painted some of their famous paintings in this area of Paris too. However, it wasn't an artists colony because the area near the Gare St Lazare was too expensive for most artists. Caillebotte had inherited a large sum from his father and could live where ever he wanted.
We ended the tour by Gare St. Lazare, made famous by Claude Monet in a painting.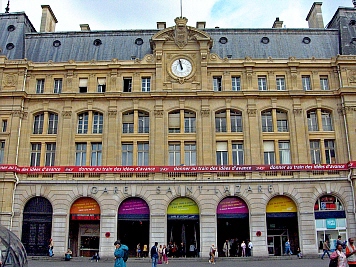 -- said Auntie M in Paris
10:54 AM

Comments:
Ha, that picture you have, "Paris Street, Rainy Day" is in my French textbook:
Rue de Paris, temps de pluie
1876-1877 Gustave Caollebotte. It's on the chapter page for Chapitre 5: Dans le passé. Nice painting.
Yes, that's the closest I'm getting to having a similar French experience to you for a while, Auntie. ;-)
#
posted by
Joe
: 6:24 AM
Post a Comment