Tuesday, June 14, 2005

Place des Vosges
This past Sunday the family took the metro over to the Marais area. We had intended to try the temporary Nutella restaurant that Camomille mentioned on the blog last week. Unfortunately, it took our family a while to get going in the morning and we didn't get to the Marais until 1:00pm and there was a long line at la table Nutella. The maitre d' told my husband that if we stood on line, it was unlikely we'd get in to the restaurant because it was closing at 3:00pm. Very disappointing. Now what to do?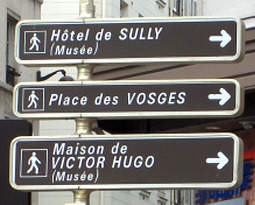 We decided to grab falafel sandwiches and a bagel and head to Place des Vosges. The weather was magnificent... sunny and warm. There was a "symphony" playing classical music with people gathered around.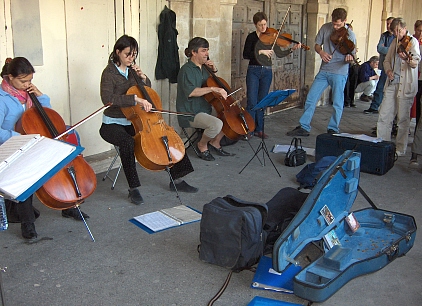 Those not gathered around the music were sunning themselves on the grass. Yes, you read that right. There were so many people on the grass that my husband and I thought we might have read the sign wrong... Pelouse au repos. We agreed that it meant something like the lawn is resting. Does that mean people can rest on the lawn too??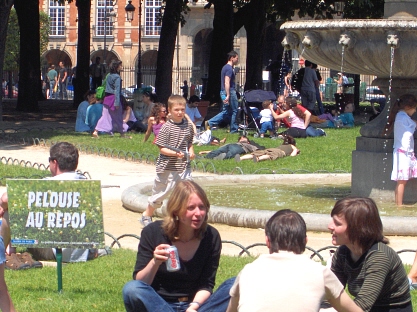 The kids played in the park for hours and eventually my son was asked to play soccer with some other boys. It was a really restful family day.

-- said Auntie M in Paris
7:47 PM

Comments:
Bonjour,
This paradox of people resting on the lawn alongside the sign "pelouse au repos" reminds me of an old joke comparing France, England, Germany and Russia. It goes like this :
In England, everything is allowed except what is forbidden.
In Germany, everything is forbidden except what is allowed.
In Russia, everything is forbidden even what is allowed.
In France, everything is allowed even what is forbidden.
I'll leave it to you to ponder on the relevance of the remark. Anyway, as a Frenchman, I'm not too sure if this is something we can always boast about...
jan-yves
#
posted by Anonymous : 10:37 PM
Post a Comment