Friday, June 17, 2005

Cernuschi Museum
I read that after several years of refurbishment, the Musee Cernuschi would be opening its doors today. So I headed over to the 8th arrondissement to have a look. The museum is located past the Parc Monceau gates, but before the actual park. Aside from the French flag flying proudly, you might walk right past this mansion.




Musee Cernuschi is a large collection of Asian art. Henri Cernuschi (1821-1896) was a banker who left to the city of Paris his large art collection, which he acquired over the course of a long journey around the world. He also donated his private residence, the Musee Cernuschi mansion.

I really liked this museum. The mansion itself is beautiful. The layout of the items is stark. The colors on the wall are grays and browns. The floors are a dark hardwood. I loved the earth tones for the backdrop of the collection items, usually made of stone, dried earth and bronze.

In the main room on the first floor is a huge Buddha in bronze. Apparently, Mr. Cernuschi found it in the suburbs of Tokyo. It is clearly the showcased item of the museum and they were kind enough to provide a comfortable gray bench for people to gaze upon the beautiful Buddha, as I did.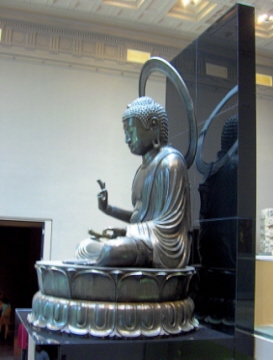 Amithaba Buddha. 18th Century, Edo era (1605-1867)

Musee Cernuschi is another city museum of Paris, so unless there is a special exhibit, entry is free. If you have any interest in Asian art, check out this gem of a museum.

-- said Auntie M in Paris
11:44 PM

Comments:
Hello,
Not far away from that museum can be found the Nissim de Camondo Museum (rue Monceau), without doubt one of the most beautiful museum in Paris.
A.
#
posted by Anonymous : 1:37 AM
'Aside from the French flag flying proudly, you might walk right past this mansion.'
Wow, Paris must be such a grand place. To walk by a mansion and hardly notice it. LOL
The buddah looks HUGE.
#
posted by
BohemianMama
: 7:19 PM
Post a Comment