Tuesday, June 21, 2005

Birthday Parties
Each of my children had a birthday party to attend on Sunday. We dropped my son and a friend off at one party and I brought my daughter to the other party. I did ask ahead of time if I could stay with my daughter and the mother replied "I won't even be there, so feel free."
My son's birthday party was in the Marais. Having just been there last weekend the kids were excited to be somewhere familiar. It's so funny. They get out of the metro and they are surprised.... "we've been here before!" Why, yes, just 7 days ago. It reminds me of when I pull something out of a closet... like a toy and my son sees the toy and tell me "mom, I've found one of my toys!"
Anyway, we walked through the Marais again. I don't think there is a more fun, lively place to walk around on a Sunday in Paris. There are so many quaint, unique shops and most of them seem to be open!
Our destination:
Musee de la Magie
. I'd never been to this museum before. In fact, I'd never even heard about it. But now that I'm writing about it and searching for links, I see that the
Washington Post
wrote an article last week about this small museum!
At the party, the kids learned a few magic tricks. They also interacted with the automated curiosities... a hand sticking out from a box ...when you shake the hand a top hat is raised. My son loved that. He also mentioned a mirror that breaks and slides down the wall when a person passes. My daughter and I actually passed by the mirror when we were dropping him off and it really scared us! My son came home from the party with a magic trick (le coquetier magique). He was very excited to show off his new magic skills. A very successful party, indeed.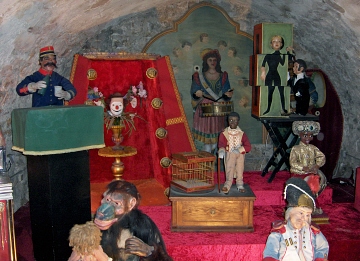 Room of old automated curiosities.
My daughter's party was at someone's home. We walked in to the party to find the entertainer that we used for my daughter's party. As a result, the entertainer gave us a warm welcome. He did his usual show. Just for your information, the typical entertainer at a kid's party does... make up ... magic tricks ...drinks and cake.... open presents....marionette show...go fishing for presents... and often blow up balloons and shapes them into animals. I've been to a lot of birthday parties and no matter the entertainer, that is the normal show. This guy, our guy, also brought a dove and bunny rabbit. At my daughter's party in February she refused to touch either animal. She also refused at her friend's party in April. But on Sunday she did pet the rabbit. I was so proud!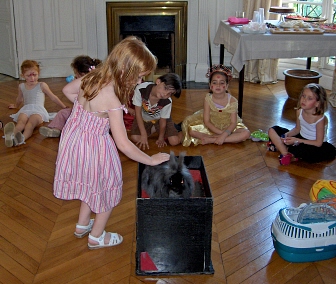 Here is the food table for the kids. This is a truly typical spread for a birthday party. Marshmallows are a popular "special" item at the birthday party. You can buy them in the bag, as we know them, but they are also a specialty item in most boulangeries...basically a gourmet snack. There is also a
flourless chocolate
cake. Just about every French kid's party has this chocolate cake.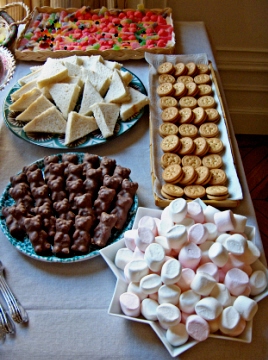 Notice the sandwiches above? I was helping out and wanted to pass the sandwiches around. So I ask the host's babysitter what kind of sandwiches they were so I could tell the children. She says "American Lady's Choice spread." I ask what she is talking about. It doesn't sound American to me. She brings out the bottle below.... I think I would describe it as tartar sauce. I told the woman I wasn't aware of Americans who made sandwiches with this stuff (although I went through a phase of making miracle whip sandwiches). The things Americans get credited with in France!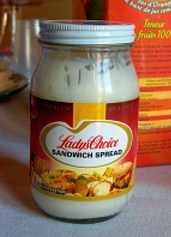 -- said Auntie M in Paris
10:20 PM

Comments:
The food spread looks delicous - nice finger snacks. I have seen marshmallows as a gourmet item in gourmet food stores.
The automated curiosities remind me of the Musee Mechanique (here in SF)where my son used to be taken all the time with his summer camp. Thanks for the museum link - another must see! And what a cool birthday to have there.
Happy "vacance", Terry in SF
#
posted by Anonymous : 11:08 PM
Post a Comment