Thursday, June 23, 2005

The Sales are Coming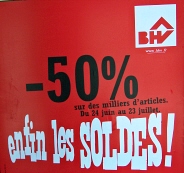 It's that time of the year again. The bi-annual sales month starts tomorrow. Expect most stores to be packed with people, especially the major department stores.
However, there will be some good sales to find. As you can see from the
BHV
ad, some of its items will be marked down 50 percent (although it ranges from store to store, item to item). The sales month ends July 23. Happy shopping.
-- said Auntie M in Paris
8:46 PM

Comments:
WHEEE!!
What I love about 'Les Soldes' is that I feel like it is my DUTY as a French resident to shop like a maniac.
#
posted by
Sammy
: 10:57 PM
Hmm, this is a French experience I read about all the time - I want to experience it, really. I don't think anything matches it here, not even Nordstroms... Terry in SF
#
posted by Anonymous : 12:27 AM
Post a Comment