Wednesday, June 22, 2005

Fete de l'Ecole
I started my Fete de la Musique day getting on the metro to do some errands. On the way, a musician joined our car and played an instrument... okay I just described what I saw on google and this is the instrument... a santoor. A pretty exotic way to start the day.

I had to rush around in the morning because yesterday was the Fete de l'Ecole for us... the end of year school party. Our party was held at the Lido again, which is located on the Champs Elysees. Here was the view yesterday as I made my way toward the Lido.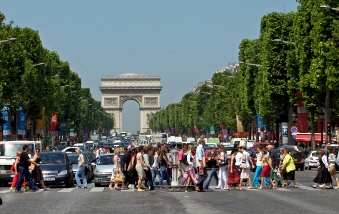 I heard a lot of music yesterday. My daughter, after weeks of fears about "the day," got on stage and had a great time. She showed no fear. Each child has a song to sing for their regular French class and their English class. My daughter had two English songs -- Yellow Submarine and One Big Family -- and she sang proudly through the numbers. She was dressed in this beautiful red Spanish dress and her hair up in a bun with red flowers. She had this flamenco dance with a boy (who she really likes) from her class and I do believe she took the lead! She really was adorable.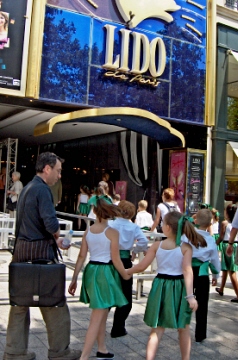 My son's class arrives at the Lido while a businessman walks by unfazed.

My son sang Free To Be You and Me for his English song. His French class performed a Danse Irlandaise. We practiced the English song at home a number of times, but I never asked my son what he was doing for his French class, even though I had to make a green belt for his costume. I've told you before that I am amazed that my son speaks nearly native French. I am still filled with awe and pride when I hear him with his friends. Well, I felt the same way yesterday when I saw him perform on stage and dance the Irish jig. Who knew? He can really move. I didn't know he had it in him. Even though I noticed he was biting his nails right before he got on stage, once on, he performed with real joy.

Once the show was over, my son went home with his best friend. My daughter and some friends ran around on stage for a while until the crew came in to clean up. We walked outside to another incredibly hot, sunny day. My daughter and her friend walked up to the Etoile/Arc de Triomphe where we would part our ways.

Right at the metro stop, there was a band playing some music. Even though I knew my daughter must be exhausted by this point she wanted to stay and listen to the music. I gave her some money for the collection jar. It was an afternoon I will long remember.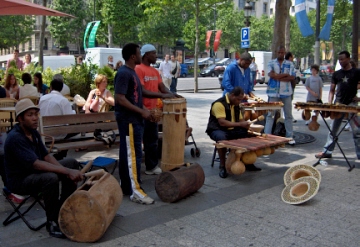 -- said Auntie M in Paris
10:49 PM

Comments:
You have a wonderful site. My wife and I visited Paris for the first time in November 2004 and I read your blog everyday wishing we were still there.
Just a quick question if you don't mind. We are having are first child (girl) due sometime this week and since you have been to alot of children events lately what are some of the popular names?
#
posted by Anonymous : 3:46 AM
Post a Comment