Thursday, June 23, 2005

Heat
For the last week it's been around 90+ degrees Fahrenheit pretty much every day. It's been very sunny too. Since there are very few places with air conditioner you just leave one hot sticky place to go to another. There isn't any relief.
Today I had a few errands to run around town and by the time I got home around 3pm I was hot and sweaty enough to contemplate subjecting you poor, dear readers to some bad poetry that went along the lines of ...
so hot. sweat pouring out of my body. shirt sticking to back
.... Yes, I know, it's not really a poem, but I was exhausted from the heat and wasn't thinking straight!
Yesterday, my son had his end of year golf test, which lasted from 2pm until 6:00pm. It was another really hot day. Yet my daughter and I had to keep ourselves busy at the park for 4 hours. We'd spend 10 minutes in the sun and then have a snack and drink in the shade. It was just too hot to stay in the sun for long. We walked over to a part of the park that has a sprinkler system to see if it was running. Yep. My daughter took her shorts off and joined the fun. Even running through the sprinklers, we could only stay for 15 minutes in the sun.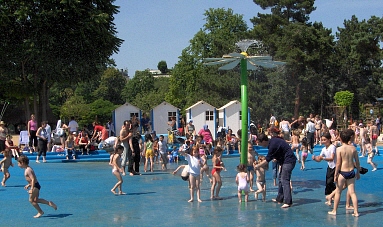 My son ended up getting the gold prize yesterday at golf. He succeeded in meeting all the requirements of a 7/8 year old to win a gold golf pin. He was wearing it proudly when I came to pick him up.
When we finally got home my daughter wanted to take a bath. I think she really wanted to find a pool!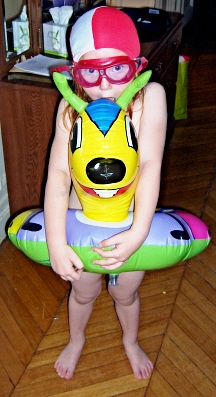 Update.... A rainstorm made its way through Paris a couple of hours ago. It rained about an hour. Even though the rain came down hard, everyone on our street had their windows open because it felt so good -- the rain and the coolness it brought. Although it's still hot, it's bearable right now.
-- said Auntie M in Paris
9:37 PM

Comments:
Did you get caught in the rain? I tried to wait it out, but I had to walk from Palais de Tokyo to Eurecole(just a couple of blocks), and I got soaked. E.had an after-school judo class, but the gym was flooded and they had to stop the class. It was worth it, though --there's such a nice cool breeze this evening. I hope it lasts til tomorrow.
#
posted by
Lisa
: 11:45 PM
Post a Comment