Monday, June 27, 2005

Converse
As a follow on to my
Smart Car
post ...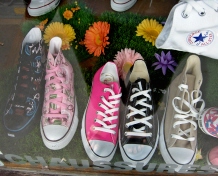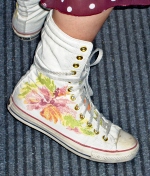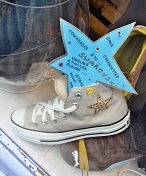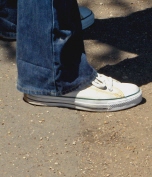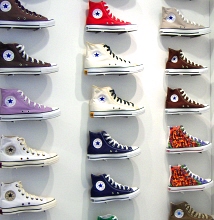 Converse
Chuck Taylor sneakers are popular. In Paris. It's true. Maybe they are popular elsewhere too? Honestly, I can't get over how popular they are here. Young hip things where them all around. My Parisian blogging friend has a
whole family
of converse sneakers.
And cream is the color. One day I saw two young women wearing the exact same cream converse sneaker on the bus -- and I rarely see people wearing the same thing. Every Paris sneaker store you pass has lots of converse sneakers in the showcase. I really want a pair. Too bad they look awful on my feet.
-- said Auntie M in Paris
10:19 PM

Comments:
as someone said,in britan hi tops are gettin populor.but also has anyone in any other country(especily the u.s.)noticed how many componys make cheep copys!i hav a pair of red tommy hilfiger trainers that look just like them.thank god i stoped wearing afte two weeks,and were the hell do you get them in hertfordshire?!?!?both my black and rare navey blues came from tenerife(i now a very good place to get them you see)if anyone else in hertfordshire nows were to get them let me now.thank you
#
posted by Anonymous : 1:14 AM
Post a Comment