Tuesday, June 28, 2005

I Love Paris Every Moment of the Year
You know when you find out some information and you just need time to digest what it means and how it will affect your life? Well, for a while now I've known that I will be leaving France next month. Although this is no surprise to the people that see or speak to me daily, I just didn't know how to write about it and tell you loyal readers. I am sad because I do love France. I have a healthy relationship with Paris... every day I fall in love with the city but some days the people and rules drive me crazy.
My husband took a new job working for the Federal Government in Washington DC. He started his job weeks ago and I've been here trying to get through my days as a single parent. My husband wisely came back to visit my birthday weekend, but I will not see him again until mid-July. For those of you wondering why I'm visiting your blog less often, this is the reason.
One reason I haven't blogged about leaving Paris is that I don't want people to feel sorry for me because I'm at peace about moving back. I also don't want people to tell me every day how much I'm going to miss Paris. I know that. I love my life here. Although when I think about what I will miss the most.... it is my son's best friend. He's become like a second son in my family and I will miss being a part of his life.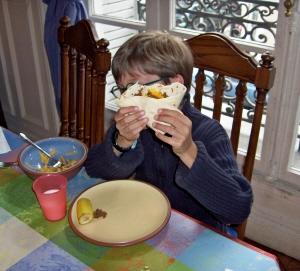 My son's friend G eating a burrito for the first time in his life. He had two that night at dinner.
The rest... I know I will be back to see this beautiful city, eat the wonderful food and keep up the friendships that I've started. There are too many things I'm going to miss, but I know this will be on the top of my list...
Although I didn't think I'd ever like "going for a coffee," I have come to relish these moments with my friends.... Anna, Miriam, Ania, Denise, Pauline, Lisa, Michelle, Irene, Marie, Valerie.
I love Paris in the spring time
I love Paris in the fall
I love Paris in the summer when it sizzles
I love Paris in the winter when it drizzles

I love Paris every moment
Every moment of the year
I love Paris, why oh why do I love Paris
Because my love is here

Cole Porter
-- said Auntie M in Paris
12:19 PM

Comments:
Be sure to take LOTS of milk jam with you when you head back to the U.S.!!! And thanks so much for your nice comments re. my current blog posting on that subject! They warmed my heart because they hit at the very core of my reason for starting my own blog -- to help other people find good things in less time than it took ME to discover them.
The SAME thing, of course, that you have accomplished so beautifully with your Paris blog. So, here's an idea -- how about doing a Paris Memories/Plans Blog for awhile, once you are settled in D.C.? I know that we shouldn't dwell on the past, and that you will love D.C. But, it's never too early to start compiling a list of the things that you most want to do the NEXT time you visit Paris. And you have the best list-development skills one could have, after your time there.
Just think how much fun it would be for your readers to supplement their own Paris list-making with your knowledgeable thoughts! Maybe, during your adjustment phase in D.C., an occasional (even if not daily) pondering of a francophile nature, would help both you and your readers through the transition. For one, I know that I would LOVE it! Anyone else agree?
Sending you all the very warmest wishes for easy going with the multitude of things that you currently have on your agenda. Clearly, YOU will do well wherever you go!
#
posted by
Ingredient Sleuth
: 7:43 PM
Post a Comment