Wednesday, July 06, 2005

South of France
I went out the other night to see if I could take a picture of the Statue of Liberty with the Eiffel Tower in the background. I couldn't take the shot I thought I'd be able to.... but I was happy enough with this picture.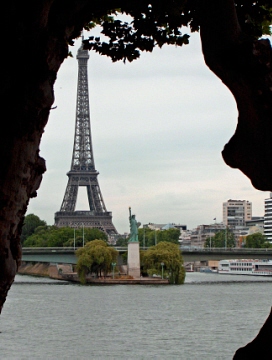 I'm heading down to visit my sister for a few days in the South of France. She has a daughter the same age as mine and the girls are so happy about spending some time together. My son is just happy his aunt has a pool.
I will try to post over the next two weeks, but it will not be daily.
-- said Auntie M in Paris
2:46 PM

Comments:
What a wonderful picture. I didn't know that there was a Statue of Liberty in Paris too. I just never thought about it! We visitid NYC 3 times last year and when we approached the Statue of Liberty, my eyes filled with tears. That sounds corny I know, but it was so moving to see this great beacon of welcome that I'd always heard about. It was a wonderful trip, I loved it. NYC is fabulous.
#
posted by
Maggie Ann
: 6:15 PM
Post a Comment