Wednesday, July 20, 2005

The Road Trip
My sister drove our families from Montpellier toward Brittany, but it was far away and we decided to make a two day trip of it. Although we were on one of the major highways in France, the scenery was often spectacular.
About an hour after we started our trip we passed the double walled fortress city of
Carcassonne
. Since it's so close to my sister's place, we've been there often. It's a great place to spend the day, however, you should be prepared that it is very commercial -- there are little stores selling souvenirs everywhere. In 1997, Carcassonne was added to
UNESCO
's World Heritage List and it is well worth a visit. I took a picture from the highway rest stop.... I think it looks majestic even from far away.
The fields that we passed along our route were also a feast for the eyes, especially the bright yellow sunflowers. Provence may have the beautiful lavender fields, but I never got tired of looking at the sunflowers of southwest France. It made the trip toward Brittany pass much faster.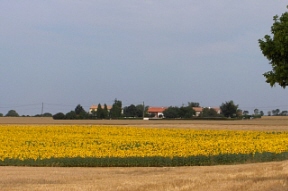 -- said Auntie M in Paris
11:54 PM

Comments:
I'm sighing right now at the gorgeous sights. Makes me think that the next trip to France has to include some driving. Even on the trains, I didn't see things as spectacular as this! Terry in SF
#
posted by Anonymous : 4:30 AM
Post a Comment