Friday, July 29, 2005

Chaumont
After spending the night in Amboise we planned to head home to Paris. We thought it would be fun to stop at a couple of chateaux along the way. We visited Chaumont and then Blois.
Chaumont was a real treat because we'd never been there before. The only thing I knew about
Chaumont chateau
was that it was the place that
Catherine de Medici
banished the mistress of her husband, Henry II, once he died. The mistress, Diane de Poitiers, made her home, while King Henry II was alive, the beautiful
Chateau Chenonceau
.
Ever since I'd heard the story of Diane being kicked out of Chenonceau and forced to live in Chaumont Chateau I've felt sorry for her. Not anymore! The Chateau is lovely. It is another amazing chateaux to visit in the Loire Valley.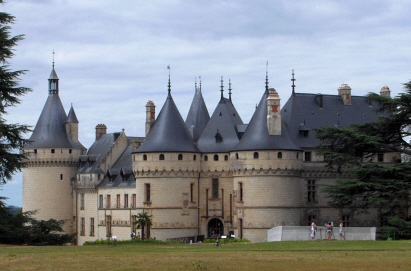 After walking through the Chateau, we visited the stables. My husband noted they were the best maintained stables we've seen. The Chateau also has lovely gardens to walk through. In fact, as you take a tour through the Chateau, nearly every room is filled with faux flowers -- mostly orchids.
After Chaumont we decided to stop in Blois for a snack. We walked to the Chateau hoping to take a picture of the famous stairwell. However, they have hung up banners to prevent such picture taking without paying the price of admission. While we were standing there my son asked if he could check whether there was a medallion machine. I told him yes and the next thing I know he is in the Chateau court. While he was there we told him to take a picture. Here is his picture. Pas Mal!
-- said Auntie M in Paris
11:55 PM

Comments:
What a guy, your son! Tell him this reader says THANKS!! because this is a really cool picture of an not-so-ordinary stairs. Well worth the cost of a medallian. And I have to agree, not a bad place to be "forced" to live. Terry in SF
#
posted by Anonymous : 2:19 AM
Post a Comment