Thursday, July 28, 2005

Amboise
We left Brittany and started toward Paris. We made a last stop in the Loire Valley before reaching our final destination.
We decided to spend the night in
Amboise
. It is the location of one of the most interesting chateaux -- Chateau Amboise.
Amboise
is owned by the Fondation Saint Louis, which is run by the Count of Paris, who ensures the conservation of this historic building.
Leonardo da Vinci
travelled to France in 1516 to enter the service of King Francis I at Amboise Chateau. He spent his last years down the street from the Amboise Chateau at
Clos Luce
. He died at Clos Luce on in 1519. Many of da Vinci's paintings were made while in France and can be found at the Louvre.
Here is one side of Amboise Chateau and the street that goes through the town. The church on the Chateau grounds is the Saint Hubert chapel which holds the tomb of Leonardo da Vinci.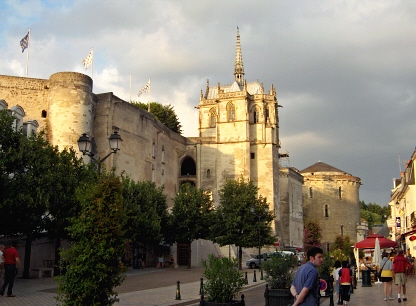 Usually, when we stay at a hotel in France it is the Novotel. They are located outside of the city center, so you'd really need a car, but they are a family friendly hotel chain. You can always find a room for a family of four, which is often difficult here! Our hotel in Amboise promised a view of the chateau. Here is my family playing mini golf on the hotel lawn with Amboise Chateau in the background.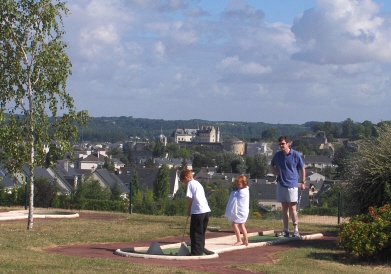 -- said Auntie M in Paris
3:44 PM

Comments:
Hello, Auntie M.
I hope your moving days are going well.
I was wondering if you had stole my holidays on purpose? Actually, I've been doing the exact same thing during my vacation: I've been on a presqu'ile in Brittany and in the Loire valley, near Amboise, just like you did. Those places are absolutely gorgeous. I Hope you and your family enjoyed it as much as me and mine did. i loved the chateau of Amboise but I was a little disappointed by the Clos Lucé. All the others castles are beautiful too: Chenonceau, Ussé, Langeais Azay-Le-Rideau...
I love your blog and I'm looking forward to read your adventures in D.C.
#
posted by
camomille
: 3:48 PM
Post a Comment