Tuesday, August 02, 2005

Nom de la Rose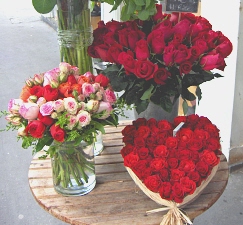 Flowers shops are everywhere in Paris. One of my favorite places is
Au Nom de la Rose
. The store is unmistakable because they sell only roses and they throw rose petals on the ground in front of their store.
Nom de la Rose is a chain flower shop in Paris. They are all over the place, and aside from the petals on the ground, they have lovely displays. Over the years, when people came for dinner I would receive one of these beautiful bouquets.
You'd think with a middle name "Rose," I would receive more roses than I do.... hint, hint...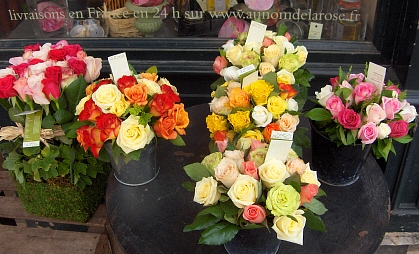 Happy Birthday to my husband!
-- said Auntie M in Paris
3:02 PM

Comments:
There is something really nice about your picture taking Auntie - these rose pics show a good example. Wow I thought, such gorgeous flower hues. Did you save/dry your hostess bouquets? Terry in SF
#
posted by Anonymous : 4:42 PM
Post a Comment