Saturday, November 06, 2004

Update and Tour
Well my sister called from the hospital and said she had an MRI and all is well. Now we'll wait for the blood tests. Maybe it is just a virus of some sort.

I took a tour of the Louvre yesterday. Since I'm with a tour group whose members have been in Paris for a while, we didn't look at the normal stuff. Most of the tour took place in the basement -- the original castle of the Louvre. The Louvre started life as a medieval castle, then a palace, and in the 16th century it was torn down to make a larger palace. The foundations of the original castle were dug out in the 1980s. There certainly were very few tourists in the original castle, but it was all very interesting.
Near the end of the tour we took a look at pictures of the Kings of France through the ages, starting with the oldest picture of a king in the Louvre... the picture of Jean Le Bon/John the Good, from around 1350. At one point, while looking at Kings, I looked out the window and took this picture.... My husband works in one of the cluster of tall buildings in the background -- La Defense.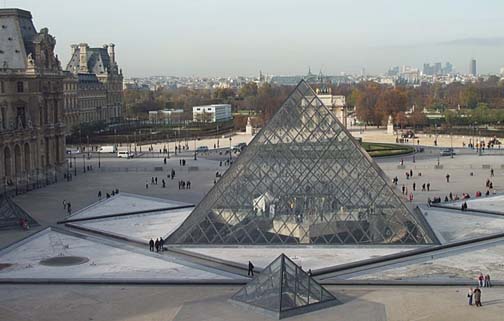 -- said Auntie M in Paris
8:21 PM

Comments:
I saw some of the old castle the first time I was here, in 1989. I'd love to go back and see what else they are showing from that era!
So sorry to hear about your sister, I'll be thinking about y'all! :)
#
posted by
ViVi
: 11:51 PM
I visited Paris last year with my French girlfriend. You are lucky to have so much time to spend in a beautiful city. Nice blog.
#
posted by
blindconcrete
: 6:21 AM
Post a Comment