Thursday, August 04, 2005

Paris Plage

The 4th annual
Paris Plage
is in full swing. About two miles of the road along the right bank of the Seine is turned into a "beach" thanks to tons of imported sand where people can lay in hammocks, walk through sprinklers, eat a picnic, swim in a public pool (but not in the Seine!), jump on a trampoline, play volleyball... really it is quite a set up and there are tons of activities from which to choose. So successful, it is now widely imitated throughout France and around Europe.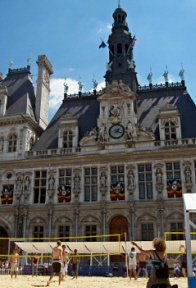 Volleyball in front of the Hotel de Ville
Since 2005 is the year of
Brazil in France
, it is also the theme of the Paris Plage. There are
samba
and
capoeira
classes at the beach too!
I was surprised to see that this year there are actually souvenir stations at the Paris Plage. You can buy beach towels, watches, mugs and shirts with the Paris Plage logo. It's pricey, but cute.
-- said Auntie M in Paris
3:18 PM

Comments:
The idea of a beach right on the Seine is such an unlikely idea that it actually works - some people sure knew the right thing that was needed. Such a likely absurd idea and it works! This one I've go to see. And this year the ambiance of Brazil is added - wonderful.
Hope the move is going well, Terry in SF
#
posted by Anonymous : 8:51 PM
Post a Comment