Wednesday, December 08, 2004

Getting Gas
After my son's golf lesson I drove to the gas station to "fill up." When I drive to the pump, I see that the cheaper gas is temporarily not working. I was unhappy because my husband and I always use the cheapest gas for the car. So I was thinking about this as I was also thinking "what am I going to ask for in French?"
The station near my house is full service and normally I just ask to fill the car with gas, but I was ticked off that the cheap gas wasn't available. In my thoughtful silence the gas attendent asks "fill her up?" I said "No", because if I couldn't have the cheap gas I wasn't filling up. Once again, thinking either that I'm an idiot or just incapable of communicating, the guy starts guessing what I might want..."dix litres?, vingt litres?, trente litres?" No I would like quarante litres/forty liters! He's relived that I am capable of telling him something informative so he can do his job. As I'm standing there, I start doing the math. The cheap gas is 95 cent/liter and the plus gas is 98 cent/litre. I've just done this whole song and dance for 1,20 euro. I should have just nodded when he asked to fill up?!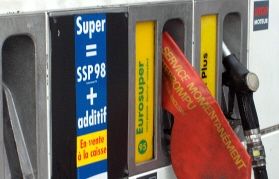 As an aside for all my American readers, that 40 liters or 10.5 gallons cost me about $52 (at current exchange rates of course.)


-- said Auntie M in Paris
8:05 PM

Comments:
I had to get gas today also. I was so excited to see it went down from $2 a gallon to $1.97. After reading your post I was humbled. Yikes, I'm sure it's only a matter of time when we will pay $5 a gal for gas in the United States.
I also enjoy reading your blog daily even though I only comment occasionally. Thanks so much for sharing, it really opens my eyes to cultural/national differences and similarities.
#
posted by
BohemianMama
: 1:26 AM
Post a Comment