Sunday, December 12, 2004

La Belle au Bois II
My sister was in town this weekend to shop and see the Christmas decorations around Paris. Her family has an apartment in the 6th and we decided to meet in that neighborhood this morning. We all met at the Luxembourg Gardens to see the guignol/puppet show.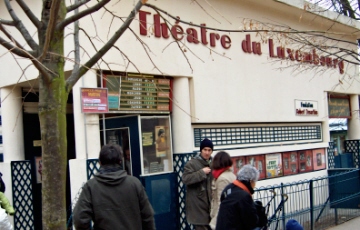 After seeing Sleeping Beauty yesterday at the National Opera of Paris, it was quite a difference to go to the puppet show today. Unfortunately, sleeping beauty wasn't playing today, but her picture was displayed for a future performance.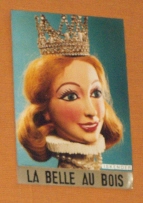 Actually, I'm not sure what we saw (Puss in boots I think), but I can tell you that the kids laughed a lot, talked back to the puppets and generally had a fun time. Who cares if the story was not that great.. puppets skipping, hitting and tricking other puppets.. does it get better for the kids?
It was really cold today and after the show the kids played at the Luxembourg Gardens playground, which is large and has really wonderful (albeit with a hint of danger) playground equipment -- two scarce commodities in Paris. We didn't stay out for long and walked over to the buvette for a warm lunch. Buvette means little drink stand so I found it funny to have a three course lunch with beef bourgignon topped off by a tarte tatin for dessert. To go with the beef....the house wine of course ... which was actually Les Marionnettes du Luxembourg.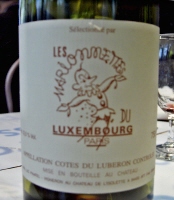 (I can just imagine the review of this wine. "A tricky little red which skipped across my palate and clobbered me in the head.")
Not bad for a snack shack. I love this country!


-- said Auntie M in Paris
7:57 PM

Comments:
Auntie M-
I love the wine "review." I think you have found your new calling.
And forgive my ignorance, but was the ballet in the new or old opera house. I really want to see something in the old opera house.
Jason
http://jasonstone.typepad.com
#
posted by Anonymous : 12:13 PM
Thanks Jason. The ballet was held at the new Opera. I agree, I'd like to see something at the Opera Garnier one of these days.
#
posted by
Auntie M in Paris
: 12:19 PM
Post a Comment