Friday, December 10, 2004

Versailles
I drove out to Chateau de Versailles for my last walking tour of the year. It was a cold day, so I was glad we didn't stay out for too long. While outside, I took this picture of a clock on top of the main entrance.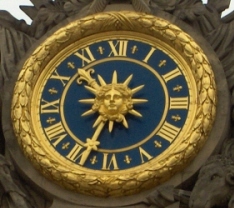 We took a tour of the state apartments of the King and Queen and the Hall of Mirrors.
Versailles started out as a hunting lodge for Louis XIII and was embellished and enlarged by his son, Louis XIV, the sun king. Versailles, as we know it today, was thanks to 20 years of construction and decorating, which was ordered by the Sun King.
The King's state apartments were designed dedicated to the planets gravitating around Apollo, the god symbolizing the sun in mythology. Here is a picture looking out from the King's suite of rooms. In this picture, you can see one small side of Versailles, one fountain, and below the little train that you can take around the property grounds.


Between the King's and Queen's suite of chambers is the Hall of Mirrors. It is a magnificent room, but you'll have to use your imagination to appreciate its full grandeur, at least for the next few years. It is currently being renovated, from 2004 until 2007, and now you can only see half of the room (which hasn't been cleaned yet). I can only imagine how magnificent the room will be in 2007. This sign tells you what you're missing.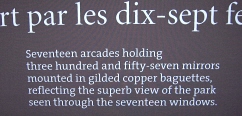 We also walked through the Queens rooms, which had a lot of paintings of Marie Antoinette, wife of King Louis XVI. One room in particular stood out... the room right outside the Queen's family chambers where the confrontation about the necklace occurred and later where royal guards were murdered on a night of October 1789 when the revolutionists insisted that the royal family move from Versailles to the Tuileries.
According to my tour guide, during Louis XIV, there were 2,000 people from the Royal Court living in Versailles and 3,000 servants who took care of the aristocrats. There were also 36,000 working there... decorating, gardening, creating sculptures. It was a city in itself. In part because so many people in town were a part of the creation of this beautiful edifice, the townsfolk made sure that Versailles survived the French revolution, unlike many other Royal chateaux.


-- said Auntie M in Paris
6:21 PM

Comments:
I love your daily writing - it always brings me back to a trip in the spring of 2002. And your photos! They are wonderful! I too visited Versailles and I tried to imagine what life was back there, walking amongst the gardens, through the Hall of Mirrors, etc.
Thank you for sharing your insights of life in Paris and France - maybe (if you're not already) can compile it all someday into a book. Really! It's one I'd buy!
Terry in San Francisco
#
posted by Anonymous : 9:22 PM
Thanks Terry, You are very kind in your comments. I'm having fun with my blog, keeping track of what I do. Before I started writing things down, I never appreciated what I did during my day. Now I do. I also hope it's something the kids will read in a few years when we are back in the US and Paris is only a memory.
#
posted by
Auntie M in Paris
: 9:14 AM
Post a Comment