Thursday, December 09, 2004

TWM Exhibit
My husband and I decided to have a rendez-vous this afternoon. We finally took the time to see the Turner Whistler Monet exhibit. The TWM exhibit is located at the Grand Palais, a beautiful building (aren't they all?) in Paris. The exhibition has 100 wonderful impressionist paintings.
The reason these artists are together in this exhibit? Monet and Whistler admired Turner's work, especially his landscapes. Their mutual interest in Turner led them to become close friends and influence each other's work. The exhibition focuses on views of the River Thames, the Seine and the city of Venice.
At 2pm this afternoon, my husband and I waited for 30 minutes in line. The museum was very full. I can only imagine how busy it is on the weekend. After Paris, the TWM exhibition heads to the Tate museum in London.
Before I entered the Grand Palais, I took a picture of a sculpture on top of the building. There's art everywhere in Paris.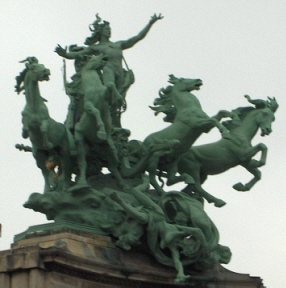 -- said Auntie M in Paris
7:45 PM

Comments:
So, what did you think? Too many things to see? Too crowded to enjoy it? Better than you could have imagined? I am basically trying to decide how badly I want to see this, because I have already seen a lot of Monet, Whistler and Turner paintings, just not together.
Jason
http://jasonstone.typepad.com
#
posted by Anonymous : 10:08 AM
Jason,
I had a headache at the time and I really, really hate crowds. It was really crowded. To enjoy the exhibit you really need to dedicate a couple of hours so that you can wait for all the tour groups and people listening to cassettes to move away from the front of the main pictures. Sometimes, I found it difficult to look at an angle (the only place I could find) because the lighting wasn't good. If you have the time to relax and enjoy the exhibit you should go. Also, it probably would be good to order ahead, although we only waited on line for 25 minutes.
#
posted by
Auntie M in Paris
: 1:32 PM
I am with you, Auntie M. I, too, despise crowds. I learned that ordering tickets ahead of time for the Pharaoh exhibit was probably the best way to go.
Since I am not working, I should probably try to go to the museum as soon as it opens so that I can actually stand in front of the things I like without having tons of people in front of me.
Jason
http://jasonstone.typepad.com
#
posted by Anonymous : 2:26 PM
Post a Comment