Monday, December 20, 2004

Let it Snow
Well, after one full day in the US, it snowed. I woke up this morning (4:15am, thank you) and found the ground covered in snow. I guess after I went to sleep last night (8pm, thank you) it rained. So although we only had three inches of snow accumulation, my niece had a snow day today. Her first of the school year. Apparently, there was a nice thick layer of ice under the snow.
As a result, today we continue with the Christmas activities. Yesterday we made about 18 dozen cookies. It took about 5 hours to bake all those cookies, but what fun for the whole family. Today we decorated the tree, went sledding and have plans to find a store that sells gingerbread houses (going out after the ice melts a bit). It's nice to drive around the area to see the Christmas lights and decorations -- you just don't see lighted reindeer eating grass on the streets of Paris. Go figure.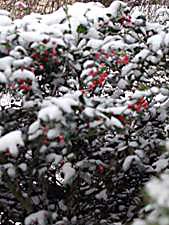 -- said Auntie M in Paris
4:10 PM

Comments:
Auntie M-
That is so much fun that you got snow. I hope that it stays through Christmas, so you can have the often sung about "White Christmas."
18 dozen cookies? Are you trying to feed the eastern seabord?
Jason
http://jasonstone.typepad.com
#
posted by Anonymous : 11:00 PM
Post a Comment