Monday, January 17, 2005

Bechu
One of the boulangeries/bakeries near my home is Bechu. I think most people, including former Paris resident and blog reader CMAC, would agree that it is one of the best bakeries in the neighborhood. Last year, the city of Paris determined what we already knew, Bechu makes some of the Paris' best baguettes!

Last year, Bechu participated in the Grand Prix of the Baguette -- a high prize indeed in this country of wonderful bread. All bakers of Paris were invited to participate in the competition. The prize was handed out last February. Bechu didn't win the top prize; that went to Pierre Thilloux - La fournée d'Augustine. Bechu advertises on all the store windows (bottom left of the picture) that they were awarded at the competition, so I assume they were a finalist.

Presumably, the bakeries are competing now for the best baguette of 2005, which will be awarded next month. I hope Bechu wins again this year, but since there is already always a line for their baguettes, it's just as well the top prize eludes them as far as I'm concerned. Otherwise Parisians from all over town will be coming to our small local bakery.

If you find yourself shopping on av Victor Hugo in the 16th arrondissement, you should stop by to have a wonderful baguette and if you're lucky it will be warm from the oven.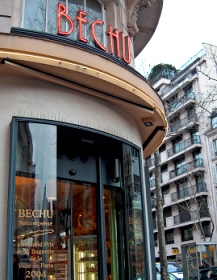 -- said Auntie M in Paris
10:21 AM

Comments:
*making notes*
sigh, cannot wait til I am back in Paris again-- I will definitely check out Bechu . . ~bluepoppy
#
posted by Anonymous : 12:46 AM
The tears are falling from my eyes and hitting the keyboard!! Ohhhhh how I miss Bechu. When we moved to the 16th we had baguettes from all over the boulangeries in our neighborhood (surprisingly there are a ton in such a small area). Of course I am biased, as Bechu was half a block away, but they did have the best baguettes!! The aroma of the baguettes that you can smell on the streets will have you running into the place. They also have very yummy croissants! Enjoy Auntie M b/c the closest thing I have come to Bechu in the States is Whole Foods---which obviously pales in comparison. I think I need a blog telling me how bad Paris sucks to make me feel better....I am getting Paris withdrawls and it will be at least a year until I get back.
Freezing my butt off over here,
CMAC
#
posted by Anonymous : 2:40 AM
Oh how I love bagette. Please eat extra for me.
#
posted by
BohemianMama
: 3:50 AM
Post a Comment