Sunday, January 16, 2005

Seaworthy Napoleon
Today we thought it was very cold out, so we didn't want to bring the kids to the park. We also had my son's best friend over, so we really didn't want to stay in the house either. So we took a short walk to the Musée de la Marine at Trocadero.

The museum was absolutely filled with models of ships along with a few pictures and displays. There was a lot of free space and few guards to yell at kids running through the place. This museum had a treasure hunt for kids... a list of items they must find in the museum. It kept them busy for quite a while as we crossed paths with them running from one place to another. After a good 45 minutes or so they came back with a long look on their face. They hadn't found anything! They were basically stuck at number one. My husband went off to help them and found out that items one and two were in a gallery that was closed for restoration. Of course, during this wild goose chase they managed to see the entire museum.

There were many interesting nautical items to look at, but one huge sculpture caught my eye: a bust of Napoleon I (in his Julius Cesar incarnation.)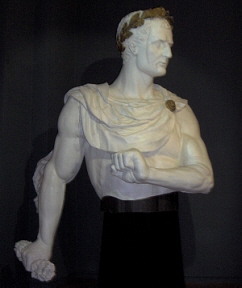 This bust of Napoleon I was used on the bow of the vessel Le Iéna around 1880. Iéna, in Germany, was a famous battle where Napoleon crushed the Prussian army.

When we left the museum, it was nice enough outside to play at the Trocadero park for a while. I took a picture of Les Invalides again. The building behind it to the left is the Pantheon.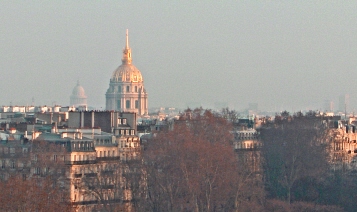 -- said Auntie M in Paris
9:44 PM

Comments:
Wow, I'm always amazed at the ego of Napoleon. He must have been a piece of work.
Beautiful bust though.
#
posted by
BohemianMama
: 10:03 PM
Post a Comment