Tuesday, January 18, 2005

Movie Set
At this moment it is snowing and raining at the same time and the sun is trying to peek out of the clouds. Most days in Paris you can experience many types of weather: a cloudy morning, a cold, rainy mid-day, a beautiful, sunny after noon, a warm evening... that is not out of the ordinary. Since most people walk everywhere in the city, it makes layering essential when you leave your house in the morning.

This rainy morning, on my way to French class I took a picture of the narrow building I referred to the other day. The building does expand into a triangle shape, but you can't see that from the picture I've taken. I think this picture looks like a movie set where there is only a facade of a structure; but I promise it's a real apartment building.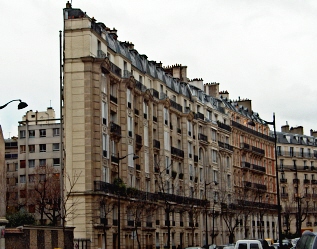 Update: In the 8 minutes it took to write this post, the weather has completely changed. The rain and snow have stopped. The sun is shining bright. I'm off to enjoy the rest of my day while it is nice out.

-- said Auntie M in Paris
2:00 PM

Comments:
Wow - you take some amazing photos!! Love this one. And the weather is exactly the same over here in Ivry. Could not believe the rain and snow just a little while ago and now it is blue skies and sunshine!! Go figure!
#
posted by
Pat
: 2:23 PM
Post a Comment