Thursday, January 27, 2005

Fur Flying
It was cold. Really cold today. There were even some flurries as we walked home this evening (two men on a corner asked my kids if they were going to make a snowman).
What happens when it's really cold in Paris? FUR. I could not believe how much fur I saw on the streets. I think there was a general agreement with all the rich women... they called each other up and said today is the day to show off our coats! Here are some of the pictures I took. It's all fur.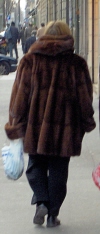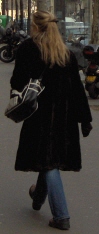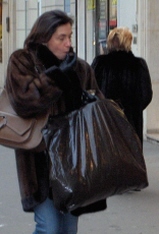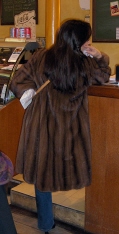 Is there a PETA chapter in France?
-- said Auntie M in Paris
11:13 PM

Comments:
yeah, the fur debate does open a whole can of worms. I don't wear fur because I don't much like the look of it, but my wool coat has a collar of sheepskin, the only way this is different is that the sheep underneath it was quite likely also used for its meat. And I have leather shoes. To avoid all animal products doesn't leave you with a wide array of more 'humanitarian/ecological' choices. No matter how you look at this debate, you're going to come up against a double standard somewhere that makes you wonder if it's really only the ethical treatment of 'cute' animals that people get worried about.
#
posted by
Nyx
: 12:38 PM
Post a Comment