Thursday, January 27, 2005

Tea Time
I had a nice start to my day. I ended up meeting another blogger, Kate, for a tea this morning in the Galerie Vivienne covered passage way. It is a beautiful covered passage way and a great way to spend a cold morning. We had a tea at the A Priori Thé salon. I had their melange maison, an orange and honey tea. We ordered some scones with our tea and they were delicious. Personally, I really, really love a good scone. It was a really enjoyable breakfast.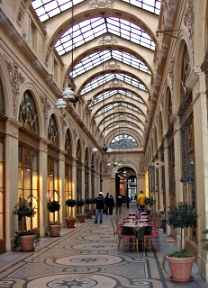 After the breakfast we walked to the Jouffroy covered passageway nearby -- the only way to shop on a nearly freezing cold day. There are many charming, quaint shops -- lots of fun shopping -- including books stores, art stores, and French figurine shops. If you are looking for something other than a steel eiffel tower (and I do love them...) to bring home, this is a good place to look for out of the ordinary gifts.

-- said Auntie M in Paris
10:59 PM

Comments:
Ooooh, what a beautiful place to start your day. This is another bookmark to see on the return trip to Paris - thanks. Kate is a wonderfully creative knitter and her blog is fun to read. You both are bloggers I would love to buy a book (that is authored by the blogger). (I believe that is how I came upon your blog too.)
I wonder if in the US somewhere, they would attempt to recreate the building and aura of a beautiful passageway like this one.
Terry in SF
#
posted by Anonymous : 5:57 AM
Post a Comment