Sunday, January 30, 2005

Winged Victory
Last night we went to a co-workers cocktail party. Apparently, these cocktail parties are semi-formal events in France. Everyone at the party was dressed up except for an American that didn't realize how formal the evening would be. Even I took out a dress and heels and believe me, that says something (my husband was warned about the dress code ahead of time). The American was told by his French wife to take off his tennis shoes before he left the house but that was his only concession. I expect that his wife always dresses her best and he always dresses casually, so his wife's request was not out of the ordinary and didn't really give him a head's up.

Once he arrived, I think he realized the error of his ways. He said "he had no idea" about the dress code. It is a difficult thing. His French wife explained that it is just understood in the French culture... when to dress up, how formally to dress... but for those of us not in the know or without a co-worker willing to explain "dress up or you'll feel out of place," it's just another example of not fitting in.

People started leaving the cocktail party around 10pm. I said to my husband that there wasn't too much food at the party. He told me that everyone was going out to eat; they were leaving for their 10pm dinner reservations. Probably while they were eating desserts I was in my warm bed.

While at the Louvre the other day I took a picture of the Winged Victory of Samothrace and wanted to share.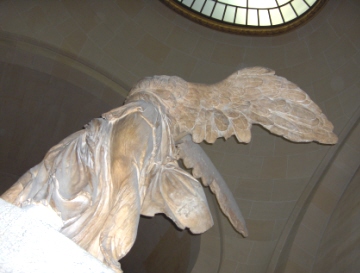 -- said Auntie M in Paris
1:31 PM

Comments:
Teriyaki, I can imagine what you describe.. people just like to dress casually in the US. I do too. It just seems practical.
BM, It's strange to think that one of the most dressed up you'll get in the US is for your Prom. I remember the hours of shopping that went into picking a dress -- more than for my wedding dress (because I used my mother's dress)!
Pismire: It would be difficult to get by here with only one dress. There do seem to be more occasions to dress up. Oh well, if you ever need to move to Paris you'll just have to go shopping!
Terry, There is an etiquette book by an American that people buy. I personally think some of the things this woman writes is absolutely ridiculous and would make you nervous to leave the house for fear of some faux pas.
#
posted by
Auntie M in Paris
: 8:17 AM
Post a Comment