Saturday, February 05, 2005

I'm in Trouble with the Law
DJ Wren sent me this link.
Apparently, it is illegal to publish pictures of the Eiffel Tower when it is lit up unless you have the necessary permission. According to the article, the lighting display used at night by the company maintaining the tower is under copyright. Unbelievable!

The beautiful Eiffel Tower:
____________Legal________________Not So Legal_____________Not Legal?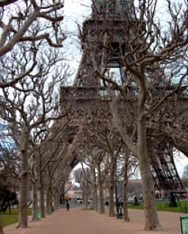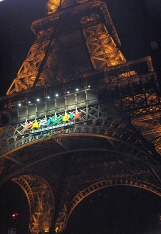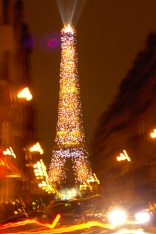 -- said Auntie M in Paris
1:35 PM

Comments:
Hi Auntie –
The French proverb states " Nul n'est censé ignorer la loi.", which can be freely rendered as "No one is supposed to be unaware of the law." (smile)
Of course, this is honored more in the breach than in the observance, but when "they wanna getcha, they'll getcha, have no doubt about it". (wider smile) One should always be aware of the law in France, alas. If, for some reason (like "pour encourager les autres") a law should be enforced, it will be, publicly and noisily.
The Eiffel-Tower-by-night photo is one of the more famous prohibitions. French law states that the picture can't be used and published without permission. Posting on internet is considered publishing. CQFD, as the French say ("Ce Qui Fallait Demontrer"). (We would say QED - "quot erat demonstrandum", i.e., "that which was to be demonstrated").
Note that it is also illegal to photograph and publish a photo of the Pyramide du Louvre, without permission and without paying royalties to the copyright owner (who, the last I heard, was the American architect I.M. Pei – dunno if he transferred/shared the copyright, though).
Furthermore it is quite illegal in France to take a picture of an individual and publish the picture without her/his permission. Concretely this means one can't snap a photo of someone (identifiability !) in the street and post the photo on internet. The usual workaround (non_identifiability !) is to blur the face with a Photoshop-type program just enough to prevent recognition. All of this doesn't apply, of course, to public people like politicians, movie stars, and what might generally be termed "People" (although some "People", such as Laetitia Halliday and Stef de Monac, are pretty shirty about such things).
By the way, the link you gave is excellent and the references therein to the Cour de Cassation and pictures of private (as oposed to public) places here are correct. Moreover, since the Convention de Berne is incorporated by treaty into US law, it applies over there, too, notwithstanding some of the comments.
For us, what should be remembered here is the (particularly) French concept ot "régularisation". I'll give you an example and compare it to, say, a California situation, to illustrate easily.
You're driving along at night. The cops pull you over and say "Papers, please." You give over your driver's license, insurance card, vehicle ownership papers, and receipt for the currently valid "contrôle techique". (In France, you might even pass along your "carte de séjour" or "carte d'identité"). The talking cop looks at the papers and then says "Sir, your red running light, left rear, is burnt out. No light."
Now, out California way, the cop then pulls out his book and prepares the ticket (that's probably the reason he pulled you over in the first place, whereas in France a "contrôle d'identité" can be carried out at any time: none of this Anglo-Saxon nonsense about "probable cause" and so on …). He writes the ticket and you part ways.
In France, the cop says ""Sir, your red running light, left rear, is burnt out. No light." You say, politely: "Darn ! I didn't know that. However, I can régulariser." ("Mince ! Je ne savais pas. Cependant, je peux régulariser.") He says yes, allez-y alors. You blithely open the trunk, pull out the set of spare bulbs, and change the offending one, while the cop watches approvingly.
You have brought about your compliance with French law. Vous avez régularisé la situation. L'infraction a cessé d'exister. ("You've regularised the situation. The offense has ceased to exist."). The cop says "Bonne fin de soirée" and you part ways. No ticket.
See ? This French idea of "régularisation" can be used in different situations and with varying degrees of success: on-street parking problems, school attendance, apartment ownership hassles, noisemaking at night, late alimony payments, late payment of taxes (!), minor "carte de séjour" hassles … depends on who, when, where and what.
This might go some way to explaining the French Relationship To The Law, which is not quite what we are used to in the US of A. (smile) There is a reason for everything elastic in France.
L'Amerloque
#
posted by
L'Amerloque
: 3:57 PM
Post a Comment