Monday, February 07, 2005

Valentine's Day Gathering
To create some fun Valentine's Day crafts
at home
, each child invited a friend over yesterday. A few days earlier I made the
salt dough
that you roll out and I cut heart shapes. These heart ornaments took a few days to dry. The kids painted the hearts at the party. Then they glossed them and put magnets on the back. I think they came out great.
Also, I made heart shaped cookies and had the kids spread pink icing on them and then sprinkled all sorts of fun sugar shaped candies.
Here is a picture of the magnets and one of the big pink cookies. It was hard keeping track of which hearts were edible!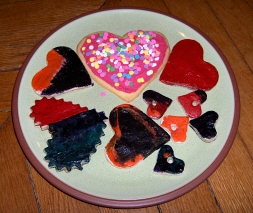 Also, I've finally added an 'about me' section.
Philip
asked me to tell why I'm here is Paris. If you are interested, just press the "Qui est Auntie M?" button on the left side.
-- said Auntie M in Paris
10:50 PM

Comments:
Terry, I will try to figure out a place to put book recommendations. I've thought about doing that in the past, but you've just given me a push. Thanks.
BM, Well, my daughter's birthday party is this Saturday and the house is a mess (as always) so I have a lot to do before then. Too bad I'd rather be making a pinata for the party and not cleaning...
Margie, The kids always make something surprising or put colors together that I never would, but the end result is always wonderful.
#
posted by
Auntie M in Paris
: 9:07 AM
Post a Comment