Thursday, February 17, 2005

Balzac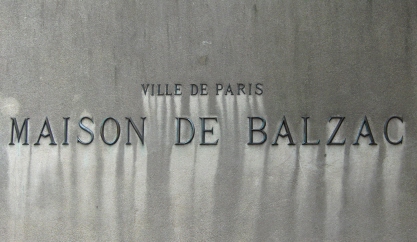 You are entering the home of Honoré de Balzac. He rented a few rooms in this home, in the 16th arrondissement, for some 7 years in the 1840s. Our walking tour of Balzac's home, a place where he rented some rooms, took about an hour. You can see a walking cane he used, the desk he used to write on in his writing room, and paintings that he owned, like the one of his second wife, Eveline Hanska. Ms Hanska, a rich woman from Poland, sent Balzac a letter telling him how much she loved his work. A correspondence was started, one that lasted 15 years and outlasted her spouse. In 1849, Balzac visited the widowed Ms Hanska in Poland and there were married in 1850. Three months later he died.

Balzac might best be know for his Human Comedy /La Comédie Humaine, which spanned more than 90 novels encompassing over 2,000 named characters written in 20 years. There are about three hundred printing press stamps of various characters that are displayed in one full room of the museum. The Human Comdey stories are a chronicle of life, especially bourgeois life, in France during the Restoration and reign of Louis-Philippe.

I think I liked this tour mostly because our tour guide, Claude Rocca, clearly loved Balzac's various works. He obviously read a lot of Balzac in his French high school. Later in the day I found myself near an English-language bookstore, Shakespeare and Company, and asked if they carried the Human Comedy. They didn't. I'll try again at a different store because now my interest is piqued.

At the museum there is a sculpture of Balzac by Rodin. Rodin was commissioned to create a monument to Balzac, nearly 40 years after his death. Rodin worked for 7 years on this project and created many studies, especially of Balzac's head. Rodin's finished work was met with outrage and ridicule and to this day, according to Claude, is still not accepted by the French public. The full statute is somewhere hard to find in the 14th. I thought this head was fascinating.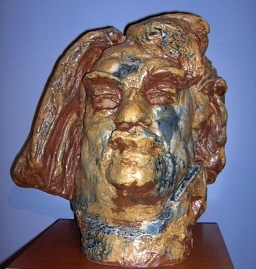 -- said Auntie M in Paris
11:43 PM

Comments:
The full statue of Balzac is actually just around the corner from my old apartment, near the intersection of Boulevards Raspail and Montparnasse.
If you are standing on Boulevard Montparnasse in front of La Rotonde (with Le Dôme and La Coupole at your back across the street), take a left on Raspail and you will find the statue about half a block down - about halfway to the metro stop Notre-Dame-des-Champs (ligne 12).
#
posted by
chad
: 6:27 AM
Post a Comment