Sunday, March 06, 2005

First Sunday
Today my daughter woke up and said she was cold. She says "maybe it's warmer outside. Today is SUN day right?"

On the first Sunday of the month, most of the National museums in Paris have free entry for the day. These include: the Louvre, the Arc de Triomphe, Musee D'Orsay, Centre Pompidou, Musee de Cluny, Sainte Chapelle, Musee Picasso, Musee Rodin, Chateau de Versailles, Conciergie, Musee des Arts D'Afrique et D'Oceanie, le Musée national des Arts et Traditions, Musée national des Arts asiatiques-Guimet, and Musée national Eugène Delacroix.

I think the last time I took advantage of this free museum day was one of the first months I arrived in Paris. My friend asked if I'd like to go to the Louvre with her. I think we stood on line for an hour that day waiting to get into the Louvre. It turned me off of ever taking advantage of these free admission days. However, a friend of mine has been talking about how she goes to the museums with the kids on the first Sunday of the month and it really isn't that bad. So I planned to try it this Sunday with the kids.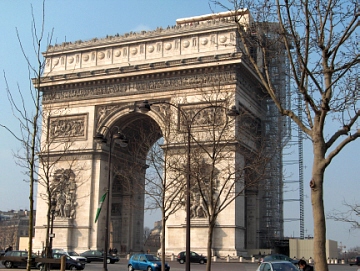 So we got ourselves up and going and headed to l'Arc de Triomphe on the Place de l'Etoile. I'd taken a tour here a few months ago, but thought the children would like to go to the top. There was no line. We walked right up and got our free entry tickets. When we are about to start climbing the stairs up to the top, the person collecting the tickets asked if I wanted to take the elevator. Me? 284 steps? Bag of lunch stuff? Folded stroller? Baby Doll? .....Yes, of course I'll take the elevator. I didn't even know it existed. Of course, my son begged to climb the stairs. But we took the glass elevator up and it was a quick ride. The kids really enjoyed checking out all the different views from the top of the Arc de Triomphe... where is the Champs Elysees? where is Daddy's office? where does my friend live? The kids imagined they could see all the specific buildings they were looking for.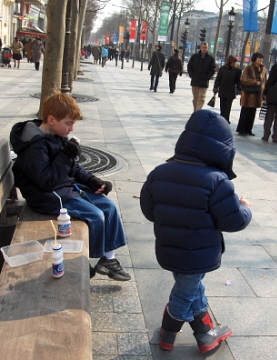 We did use the stairs on the way down. After that we took a walk on the Champs Elysees and had a picnic lunch. The kids were still hungry after sandwiches, so we had a hot chocolate (son) and vanilla ice cream (daughter) at Hagan Dazs. It was a pleasant afternoon -- even my son said so (perhaps because he bought another medallion?). Now we are home and my son is trying to finish up his homework that is due tomorrow.

-- said Auntie M in Paris
3:41 PM

Comments:
Bonjour! Greetings from across the pond. What a delightful Sunday you had. Oh, it is almost spring and I long to visit Paris again. Soon, very soon.
Thank you for all the glorious links.
Before I forget let me say:
"Hello, Michele sent me." Yes, Auntie M, TAG you are it.
#
posted by
Michele
: 5:47 AM
Post a Comment