Friday, March 04, 2005

Les Invalides
Well I had another day home with the kids, so I took them for a hair cut... school will be starting in a few days!! Then we took the bus to another Paris site that I thought my kids would enjoy. Of course the pot was sweetened with the possibility of yet another medallion for their collections.

We took a trip to the Musée de l'Armée or the Hotel National des Invalides. In 1671, Louis XIV decided to create a building to house disabled soldiers, the Hotel des Invalides. Construction was finished at the end of 1706 and nearly 4,000 residents lived there.

In 1840, Napoleon's body was transferred from the island of St. Helena to Paris. The Eglise du Dome, part of the Hotel des Invalides, houses Napoleon's tomb. According to the Army musuem guide book Napoleon "rests in five successive coffins (one in tin, one in mahogany, two in lead and one in ebony) which are arranged within a majestic block of red porphyry from Finland." There is a circle below his tomb which lists some of his military victories, e.g., Iena and Friedland.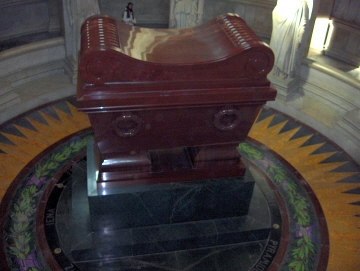 We spent about an hour walking around Napoleon's tomb and parts of the Army museum. My son has read and heard a lot about Napoleon in school (does he even know the name of George Washington??). He liked walking around looking at the various weapons and previous flags of France. He especially like a golden eagle that topped a flag in the war. The caption near the eagle reads "aigle blesse"/wounded eagle and it has two big bullet holes through it. He also liked the display of various bullets used through the years. He asked when the last war occurred. He hears about America as some distant land that starts wars with other countries. I didn't know how to answer him.

The Army museum was very large and very impressive. You could easily spend half a day there.

The view over Napoleon's Tomb.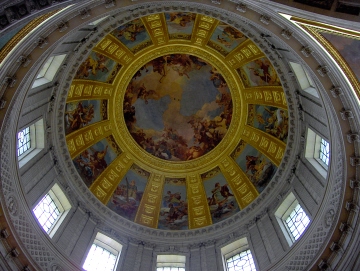 -- said Auntie M in Paris
9:23 PM

Comments:
Great photos. You always have such interesting views of places.
#
posted by Anonymous : 5:29 PM
Hey Auntie M, Michele kind of sent me....
We where in Paris on the weekend of the 18th of February, I love that city.
We took almost identical photo's
have a look
Napoleons tomb
then hit next.
Great blog by the way
#
posted by
Yoggy Adams
: 2:03 PM
Post a Comment