Sunday, March 13, 2005

Le Grand Colbert
Last night the babysitter came and we took my husband's aunt to dinner. A friend recommended a place,
Le Grand Colbert
(LGC), where she takes all of her out-of-town guests.
LGC
is one of those Parisian dining institutions. It has been around for so long, it has a good (not great) reputation for the food it serves, but it has all the Parisian ambiance you could want. LGC was also a location shoot for the recent movie "
Something's Gotta Give
" with Jack Nicholson, Diane Keaton and Keanu Reeves. Remember when it is the birthday of Diane Keaton's character and they celebrate at a Parisian restaurant? Well it is LGC. Here is the director's clapboard movie prop, the only item in the restaurant regarding the movie.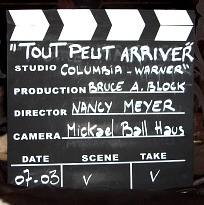 When I saw the sign I told my husband I wanted to take a picture of it. He was not happy. He asked if I could wait until he was on his way out after dinner. Then he remembered (he has been gone for a week and has jet-lag, remember) that I have quite a one track mind about things and he worried I would be talking about the stupid movie prop all through dinner - it was staring at me begging me to take a picture. So he suggested I take a picture right then because the booth was empty (it was only 8:30 at this point well before *normal* dining time and the restaurant is filled only with tourists). I go take the picture (after I ask the restaurant staff) and the couple at the next table is staring at me (which actually does not bother me that much... I have my blog audience to worry about!) so I turn to them and say "tacky American" about myself in English. No surprise, they are English speakers (Canadian and American) too and start a conversation.
Them: Is that clapboard the only souvenir from the movie in here?
Me: I have never been here before, but it looks that way.
Them: Do you think the restaurant sells posters from the movie?
Me: You don't live around here, do you?
I return to the dinner with my husband and his aunt. His aunt and I have the 26 euro menu -- four courses. We both start with the Chevre chaud salade/Goat cheese salad followed with a piece of salmon in a cream sauce. She chooses the apple crumble and I choose the baba au rhum for dessert. All the food was fine, but not great. The flavors were passable, not memorable. My husband had a very bland onion soup -- a true disappointment. The only reason to go is the ambiance, but frankly there are many restaurants with wonderful decor AND wonderful food. However, the desserts were very good and I loved the presentation of the baba au rhum.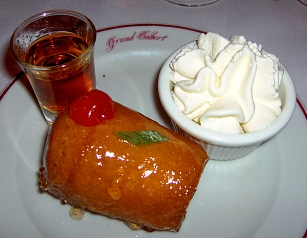 -- said Auntie M in Paris
4:51 PM

Comments:
That was one of my favorite movies!!! I always wondered if that was a real restaurant b/c the Eiffel Tower was so pronouced! It almost looked like a backdrop. Was it in the 8th? Loved the conversation with the other couple!!!! It would have been hysterical if they had asked the waiter if they sold posters!! I can just hear you say...you don't live around here do you. Very funny.
CMAC
#
posted by Anonymous : 6:41 PM
Post a Comment