Saturday, March 19, 2005

Bastille Neighborhood
Yesterday I had a Friday walking tour. This week, we had a tour of the Bastille and St. Antoine Faubourg neighborhoods. I've been to this part of town a few times and I wasn't too excited about the tour.

However, it was one of those off-the-beaten track kind of tours. I don't think you'd want to walk around exploring and discovering the little gems of Paris on your first trip here, but for our group, it was a lot of fun.

Jacques pointed out little hidden treasures, like this 18th century water fountain. The fountain was created by the regent Philippe II, Duc d'Orléans (1674-1723). Philippe was regent because Louis XV was only 5 years old when he inherited the throne of France. During his regency, Philippe tried to reverse the tendency toward absolutism by restoring the power of the nobles. He also felt that Versailles was too far away and brought the "capital" back to Paris and tried to take care of the Parisians. One way he did this was to provide a source of fresh water to the people, in the form of water fountains.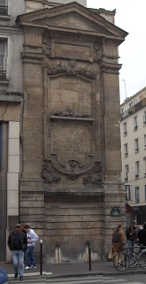 We walked into a number of hidden passages in the area. One hidden passage led to a recent movie set.... for Before Sunset. I guess Julie Delpy's character lived in one of the apartment buildings down this passage. It is a passage with a code so it's not easy to get into the corridor, but what a charming little area of Paris. Once you walk in, you feel a thousand miles away from the city.. cats roaming around, birds chirping, lots of green....it was a wonderful surprise. Now everyone in our group wants to see this movie!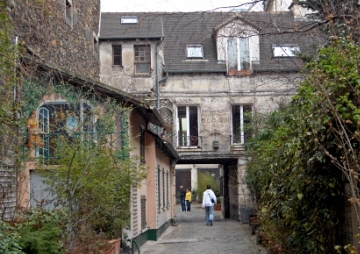 -- said Auntie M in Paris
8:30 AM

Comments:
Hi Auntie –
A lot of buildings in this area (Faubourg Saint-Antoine) are unfortunately slated for "rehabilitation", not to say outright demolition. This has been going on for quite some time – about fifteen years or so, since the vast majority of the traditional furnituremakers, and associated trades, went out of business.
Several years ago, early on Saturday and Sunday mornings, one could see small delivery vans and other vehicles belonging to antiques dealers (and to other interested parties, like us (smile)) stopping at each "benne" (i.e., "skip" or "dumpster") in the street in front of a building being "rehabilitated". Everyone would look over the items had been thrown out by the workers and discuss them. It was a marvelous time - you'd be surprised at the number of
antiquaires
and
brocanteurs
we met.
Over a yearlong period, from the
bennes
we recovered enough authentic 18th century hexagonal tiles to pave two bedrooms and part of a third, a well as numerous other old things which the workers had thrown out. Of course, we had to clean the edges and backs of the tiles, which took ages, even with modern machines, but the effort was worth it.
L'Amerloque
#
posted by
L'Amerloque
: 1:13 PM
L'A, That's too bad about the rehabilitation. I love tiles. What a treasure to find and to use for the bedrooms.
#
posted by
Auntie M in Paris
: 8:08 PM
Post a Comment