Wednesday, March 16, 2005

Bloom
Yesterday was the Bloom Where You're Planted program. They had a wonderful program of speakers to talk about living in France. One of my favorite speakers, who has also written a book, is Peter Caine. Peter and his wife started the Paris Walking Tours, which are very interesting and educational two hour tours around Paris for the reasonable price of 10 euro.

Peter spoke at Bloom yesterday and stayed to sign his book, Paris Then and Now. It's a beautiful book of pictures with scenes from Paris 'then' on one page and Paris 'now' on the other. Someone else took the current pictures and Peter added all the historical information to the book. I've bought three of these books... one for myself and two for presents. Here is Peter and his book.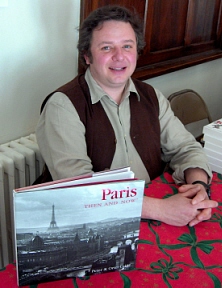 At Bloom, I volunteered to work at the Brentano's book table. It's my favorite thing to do because I get to look over the new books and find out what books other people have read and recommend. Additionally, I get to hang out with my friend who really works at Brentano's. We've been "working" together annually at the Bloom table for four years and she is one of my few French friends. She recommended a book that I snapped up yesterday. The best thing about that purchase? My sisters, who are both interested in the Bayeux Tapestry and read a lot, knew nothing about the book. What a coup! It's 1066 The Hidden History In The Bayeux Tapestry by Andrew Bridgeford and it hasn't been released in the US, but as often happens, is already available in soft cover in the U.K. where Brentano's purchased it. Nothing like getting ahead of your older sisters!

I must also admit that I bought some pens yesterday. You know I'm a sucker for the Eiffel Tower and these beautiful babies light up when you put pen to paper. I fell in love.... five times.



-- said Auntie M in Paris
11:29 PM

Comments:
So what I really wanted to say (sorry) is that Auntie, you IMPRESS me with your undying 'touristyness'!
Eiffel tower pens??
Do you have the matching stationary and envelopes?
#
posted by
Sammy
: 10:53 AM
Post a Comment