Thursday, March 17, 2005

Sunny Weather
Whine complain whine "its cold", "its freezing," Paris doesn't do cold well, I'm so co....

Uh ...

Summer arrived. I believe it must have been around 80 degrees yesterday. It was hot. Kids were running around without shirts at the Jardin. I had to roll up the legs of my daughter's pants because she was "too hot" (say it with a whine to get it right).

Last Wednesday, I was wearing wool with a down coat. Yesterday I took off my shoes and socks and let my feet play in the cool sand while a warm breeze pushed against my cotton shirt.

When I was a teenager, I would try to appreciate when I had a really great day. To do this I rated my days in my diary. Today with my son and his best friend making their way to the top of the Effiel Tower climbing tower while my daughter was playing in the sand, my husband back again in Paris and the sun warming my face… it would definitely rate A+.

My son, his best friend and his best friend's previous au pair climbing the Eiffel Tower at the Jardin.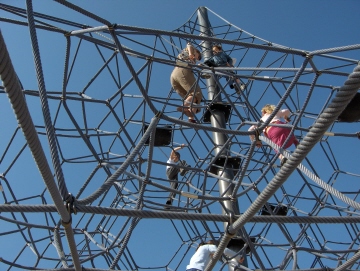 -- said Auntie M in Paris
8:34 AM

Comments:
I love that you can still come across these jungle gym-type playground things over here... I can't remember the last time I saw one of these in the US (probably too many lawsuits).
And isn't the weather just gorgeous! Granted, it's breezy and a bit cooler here (like 15c), but still... I got to go out with only a sweater... no huge coat! How exciting!
#
posted by
kim
: 10:02 AM
Post a Comment