Sunday, March 27, 2005

Easter Egg Hunt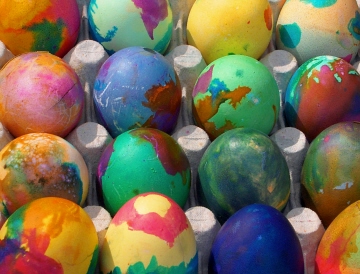 On Saturday we participated in an Easter Egg hunt with some friends. Basically, everyone who had a spouse out of town was at Trocadero Park to enjoy a few hours of Easter fun with the kids in basically overcast weather.... but at least it didn't rain!

We had an egg on a spoon relay race, an Easter egg hunt and lots of soccer (between the times the guard would check on us and tell us it's "interdit!" or forbidden to play ball on the grass).

Here are a bunch of boys "searching" for eggs. Please notice that there are about 5 eggs in plain sight (in the bottom right corner and on top of the bushes) that the boys don't seem to notice.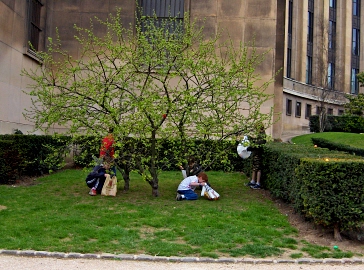 My daughter found about twice as many eggs as the boys found (she had to share later... she also got a 30 second head start). Here are a couple of the girls conferring on their hunt strategy.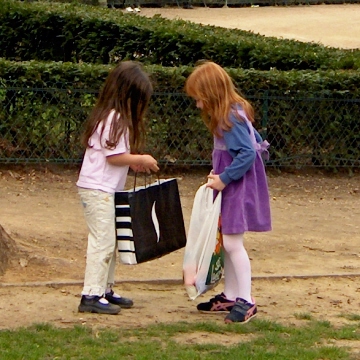 The loot.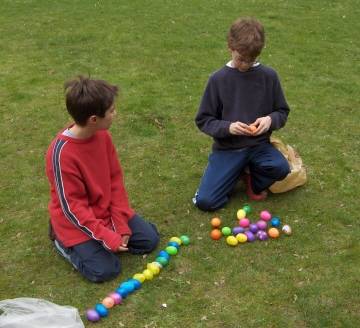 Running off the sugar high with the Eiffel Tower as the backdrop.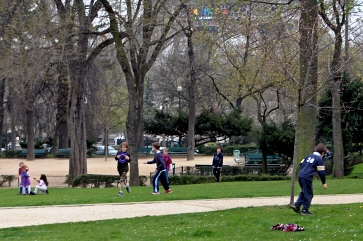 -- said Auntie M in Paris
6:54 PM

Comments:
did you find plastic hollow eggs to fill up somewhere? because the first picture looks like home dyed eggs, but the ones with the kids look like those plastic filled ones, and I've never seen those here.
#
posted by
kim
: 10:09 PM
Kim, Yeah! My comments are finally working again. The first picture is of dyed eggs, but the other eggs are those plastic ones from our childhood. I placed an oriental trading order and someone brought them over. I've never seen them in France.
#
posted by
Auntie M in Paris
: 7:44 PM
Post a Comment