Tuesday, March 29, 2005

Vaux-le-Vicomte
If you visit Paris for a week and want to see a beautiful Chateau, you'd probably make plans to go to
Versailles
. If you had a two week trip to France, you'd probably include a few days in the
Loire Valley
, visiting some of the many majestic chateaux. If you've already been to Versailles and the Loire, and liked French history, you'd probably take a trip to
Fontainebleau
.
My question is this... there are so many wonderful, amazing places to visit in France, when would you make the time to see
Vaux-le-Vicomte
(VLV)?? It is one of my favorite places to visit because it's charming, relatively compact, the grounds are well kept and it's only 45 minutes driving from Paris.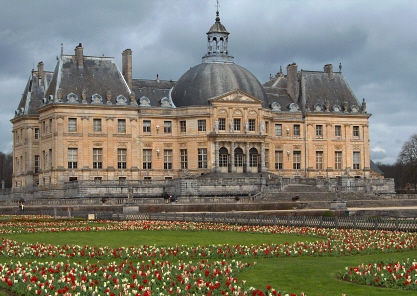 The flowers were out yesterday.
Easter Monday is a national holiday here in France so my husband had the day off. Last Easter Monday we spent the day at
VLV
because they have a special program of activities for the children. So... even though we were tired from our trip to Bruges and it looked like it might rain, we headed out to VLV.
VLV really has a wonderful Easter program for the kids. There are workshops on origami, chocolate making, and using a printing press. They also had volunteers put make-up on the children.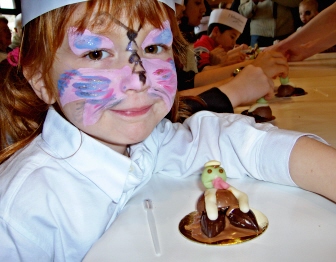 My daughter with her chocolate design.
Outside, the Chateau staff organized a fishing game where you could win small prizes, a fencing class, pony rides and a game course for the older children where you had to find the answers to questions about items outside of the chateau....e.g.. how many points does the fountain crown have?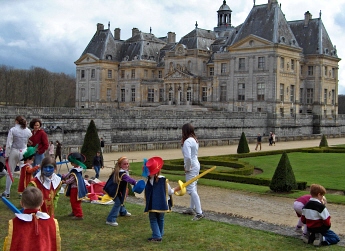 Another family with two children the same age as ours joined us for the day. So not only did my children have many fun activities to choose from, they had a friend to share the experience. My husband and I were so glad we made the effort to go out there after all because it was a really lovely day. And.... it waited to rain until we got back into the car to head home to Paris!
-- said Auntie M in Paris
11:14 AM

Comments:
mrsmogul, I really like Bruges.. too bad it is so crowded all the time.
e and Anji, Thanks. It really was a nice family day.
Oz, My son got his face painted in the end and chose a bird. It was very colorful.
CMAC, Trying to take advantage of my opportunities. They won't last forever.
Sammy, True, but the Chateau does need a regular stream of funds to keep going.
NARDAC, Tea sounds great... let me know a couple of possible dates.
Anp, Definitely worth a trip.
Irene, If I were taking the kids on a normal day, I might choose Fountainebleau before VLV. There are more places to run around and walk around in Fountainebleau.
Anna, I think city life is difficult for the kids, but there is so much culture!
#
posted by
Auntie M in Paris
: 4:09 PM
Post a Comment