Thursday, March 31, 2005

Polite Paris
Paris wants you to be polite when using public transportation. It started with the buses. A few months ago, these little brightly colored stickers were placed in the buses near particular seats... is someone carrying heaving bags, please be kind and let the person sit here....is someone in a wheelchair, please let the person use this space ... kind of thing. Because these signs are brightly colored, they attracted my son's attention and he would spend the time reading all the little signs.

Recently, the metro added signs too. These signs, as you approach your train, tell you to keep the rhythm. The first part of the sign reminds you to let people get off the train. Once the people are off, then it is your turn to get on the train. The third part of the sign reminds you that once the train door closure alarm rings, don't try to jump on the train but rather just wait for the next train.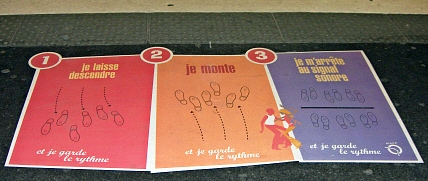 So when in Paris... be polite and for goodness sake keep the rhythm -- the metro tango!

-- said Auntie M in Paris
4:06 PM

Comments:
Hi Auntie –
Decals, stickers and brochures are far cheaper than law enforcement personnel. A great deal of the hassles that metro police and CRS have to deal with (and which blow up into violence, according to
Le Parisien
) are caused by what the French term "incivilités" and "incivisme", roughly meaning "lack of politeness" and "reluctance to follow the rules". Hopefully this campaign will make a bit of difference. Hopefully. Hopefully.
L'Amerloque
#
posted by
L'Amerloque
: 6:28 PM
Post a Comment