Tuesday, April 12, 2005

Androuet
One of the quotes I heard a lot when I arrived France was....
"How can you be expected to govern a country that has 246 kinds of cheese?"
by Charles de Gaulle.
There are so many wonderful cheeses in France. When I first moved here I bought the
French Cheese book
and checked off every new cheese I tried. I gave up the day I brought home a Tomme cheese and went to check it off the list. I found that the book listed something like 38 variations of this one cheese alone! By now, I have my favorite cheeses (comte,
cantal
,
chevre crottin
and
port salut
) and try to have something new every once in a while.
Like wine, French cheese is protected by AOC laws (appellation d'origine controllee). This law allows only certain limited quantities of a particular cheese to be produced in order to prevent mass production ruining the subtle variations in regional French cheeses.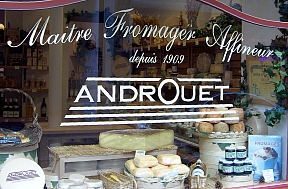 While my family was in town, I wanted a French friend of mine to meet them. A few weeks ago, we decided she would come over for a little cheese and wine. I thought this was a great idea until I started thinking about the details.... where to buy the cheese, which wine to buy and what type of bread to serve. I know they may sound like trivial concerns, and of course, they are, but I wanted to make sure I didn't make a fool of myself. I've never had this friend over for a "meal" before.
We decided on the wine first. Because my sister loves
Roquefort
, I asked for a wine that goes well with that kind of cheese. We went to
Nicholas
, the chain wine store, and the wine guy recommended a
Sancerre
. We also bought a
Bordeaux
.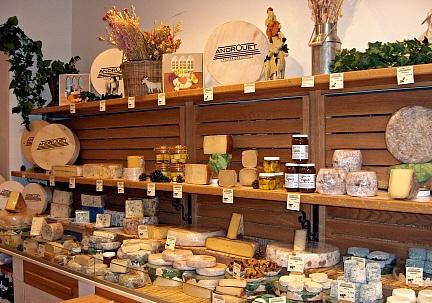 Then we walked to Androuet. My French friends have recommended that I buy my cheese at Androuet. There are three stores in Paris and one is not too far from my home. My sister, the cheese addict, picked out the cheeses. She made some lovely choices and had way too much fun. The cheese man let us have samples to determine which ones we wanted to buy. She bought some Carles Roquefort,
Comte
, Gouda (aged three years and impossible to cut), Poivre Brie,
Ste. Maure
Chevre,
Rocamadour
,
Trappe d'Echourgnac
, and
Neufchatel Coeur
. It was a delicious selection.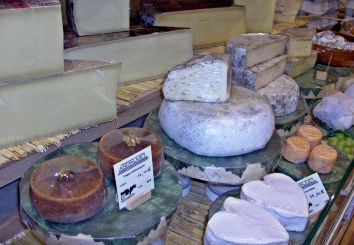 I think my sister bought a piece of every cheese in this picture.
Finally, we bought some baguettes and some
Poilane
bread to eat with the cheese.
My friend came over and we had a very nice time trying the cheese and wine. After she left we had some more cheese and decided that was enough of a meal.
-- said Auntie M in Paris
9:39 PM

Comments:
Gosh, alot of the time when I can read your blog it's right before dinner. I just got esp. hungry reading this entry about cheeses (not to mention others....) And I bet there are many more you'd like to try.
2 yrs ago our host bought us some cheese on rue Cler in the am, we carried it around all day with us w/o refrigerating it. My husband pulls it out in the pm to the family hosting our son and I give him a look like "do you want to poison them?" but my husband asked the mother/host and she said it should be fine. And it was! (My cheese story) Terry in SF
#
posted by Anonymous : 2:57 AM
Post a Comment