Monday, April 11, 2005

Crazy Horse
As we were finishing dinner last night, one of the men starting talking about the Crazy Horse. I'm not sure who mentioned it first, but the idea spread. The men decided they all wanted to see a show after the dinner. The cruise boat staff got the number for Crazy Horse and reservations were made for the show that night.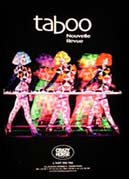 Five out of the seven men ended up going to the show (my brother-in-law from the south of France had to get up early and my son was deemed too young -- but he resented having to stay with the women! Why couldn't he see the horses?!).

The general verdict was that the show was fun enough. There were 17 skits in about 75 minutes. My nephews (20, 22) had a lot of fun with the topless women. One nephew was convinced that a dancer was winking at his brother. The older guys thought it wasn't quite the "spectacular spectacle" that they were expecting. After seeing shows at the Lido and Moulin Rouge and now listening to a review of the Crazy Horse, I think that the Lido might have the best spectacle around.

-- said Auntie M in Paris
8:10 PM

Comments:
I had no idea that's what Crazy Horse is. How educational! Where I work, at a department store, there's a brand of rather dull women's clothing called Crazy Horse; I wonder if that's what its founders had in mind?
#
posted by
Janna
: 4:56 AM
LOL!!!
We have a local casino called Crazy Horse Casino and Resort(Native American Tribe Owned and Operated). I was thinking "maybe it's a chain of casinos or something".
I would love to see one of those shows. Moulin since it's so famous.
Those books looked great, more to my list.(-:
#
posted by
BohemianMama
: 5:59 AM
Janna, Well when I put crazy horse into google I got information about American Indians. I believe there was a protest here recently that the American Indians were asking for a name change to the establishment. I had no idea it was also a clothes brand.
BM, Yes, those shows are really famous. It's fun to spend a night at one of these shows just to have the experience.
#
posted by
Auntie M in Paris
: 9:53 AM
Post a Comment