Friday, April 08, 2005

Booked in France
A while ago someone asked me if I had a list of books about France that I would recommend. Well, here are most of the books about France that I have read while here. Mainly, I've listed the basic living books, not others like the Marie Antoinette biography that I really enjoyed.
Please feel free to leave a comment if you agree or disagree with my assessment of a particular book. Also, if you think I've left some basic book about life in France off this list, let me know. Finally, if you have a recommendation about a book on France, pass it on, I'm always looking for a good read.

French Cheeses. This is a really great book to look up all the cheeses that are available in France.

Wine and War: The French, the Nazis, and the Battle for France's Greatest Treasure, Don Kladstrup, Petie Kladstrup. This is one of my favorite books. It's part history and part good story about how the French hid their national treasure (wine, champagne) during WWII.

Hachette Guide To French Wines 2005: The Definitive Guide To Over 9,000 of the Best Wines in France, Hachette. It's always handy to have a guide on wine... which years you should buy...

French: The Secrets of Classic Cooking Made Easy, Carole Clements. BUY THIS BOOK! This is my French cookbook bible. There is a picture of every recipe and the recipes are easy to follow. This is the every day person's French cookbook.

Paris Sweets : Great Desserts From the City's Best Pastry Shops, Dorie Greenspan. I haven't bought this book, but I think Dorie is wonderful and if I ever do buy a dessert book, this would be the one.

Food Lover's Guide to Paris, 4th edition, Patricia Wells. I don't care much for Patricia Wells cookbooks, but I do like this handy reference guide. If you just plan to visit France and enjoy some good food places, e.g., wine bars and tea salons, this is a great book.

Paris Then & Now (Then and Now International Series), Peter and Oriel Caine. I've written about how much I like Peter Caine. This book is a favorite present for those who love Paris.

Around and About Paris, Volume 3: New Horizons: Haussmann's Annexation (Arrondissements 13 - 20) , Thirza Vallois. Thirza has done a lot of research for this series of books on the arrondissements.

The Piano Shop on the Left Bank: Discovering a Forgotten Passion in a Paris Atelier , Thad Carhart. A very pleasant book about a man, his love of pianos, and his friendship with a Frenchman.

Sixty Million Frenchmen Can't Be Wrong: Why We Love France but Not the French, Jean-Benoit Nadeau, Julie Barlow. A bit too serious for me, but so many people loved this book. Written by two Canadians journalists, it has lots of information and many insights about France. Best of the genre.

Le Divorce. Diane Johnson. This book is all story, but provides many insights into cultural differences.
Le Bus : Répertoire des 310 lignes Paris-Banlieue, toutes les stations, les correspondences. The bus is my favorite transportation in Paris. If you want to see more of the city as you are going from one museum to the next, buy this book to figure out the many bus routes.

Plan de ville : Paris par arrondissements, Plans Ponchet. This is one of the books that you'd see a Parisian carry around. Very detailed maps of Paris. Parisians out of their "quartier" are tourists. You can feel like you belong having this in your hands as opposed to a "Let's Go Paris" guide.

Paris to the Moon, Adam Gopnik. Mixed reviews on this book, but another opportunity to learn more about living in Paris. It came out just as I moved here and it influenced my view of the city. I now have my own opinions and so I don't fully agree with it. Plus I've read a number of first person accounts of France like Nicholas DelBanco's annoying "Running in Place" and have tired of the author as unwitting hero formula.

The Josephine Bonaparte Collection: The Many Lives and Secret, Sorrows of Josephine B., Tales of Passion, Tales of Woe, and The Last Great Dance on Earth, Sandra Gulland. Most women I have met in Paris have read this trilogy. It's historical fiction about Josephine Bonaparte. The story telling is great and for me, at least, it got me very interested in reading more about French history.

Me Talk Pretty One Day, David Sedaris. Honestly, I haven't read this book. My husband read it when we first arrived and laughed all the way through. Since I rarely read the same books my husband reads... I just lost interest in it. However, many people have read this book and really enjoyed it.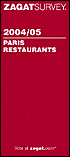 Zagats. Even if you come for a long weekend, it is worth buying this book. Why get a mediocre meal in France, when there are plenty of places that are reasonably priced with delicious food? This book will help you make the right choices.

Almost French, Sarah Turnbull. I didn't care much for this book because she seemed to whine and bitch a lot, but so many others have enjoyed it. I think, once again, it had some insights into the cultural differences but I just couldn't get past the fine whine.

A Year in the Merde, Stephen Clarke. I'm reading this book right now. He's a twenty something that lived in Paris for a year working at a French company and has a lot of attitude about the experience. His sexual escapades dominate the story, but there are, once again, insights into cultural differences that make it interesting but the sophmoric behavior is grating.

Paris with Kids, Fodor's. This is a great book if you are coming to Paris with kids. There are plenty of ideas of places to go that will hold the interest of your children.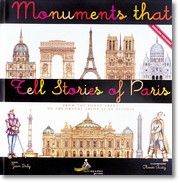 Monuments That Tell Stories of Paris, Jean Daly. This is a beautiful Paris guide for children of the main monuments. I've bought this book a dozen times to bring back to the children of friends in the US.
-- said Auntie M in Paris
11:20 PM

Comments:
You HAVE to read the David Sedaris book. It's extremely funny.
I tried to read Wine & War but found the writing too over-dramatic but at the same time too boring to get into the story. I'll have to give it another try since you give it such a good review.
Another must have for your list is the essay collection: France: A Love Story. It gives good insight into French life overall, not just in Paris.
I enjoyed Almost French and instead of finding the complaining annoying, I completely related to it. At the time I was also complaining about many of the same things. Maybe I could relate to it because I was also here on account of being married to someone French.
I don't know though if I'd be whining if I was living in Paris and interviewing famous fashion designers!
#
posted by
Anna
: 8:17 AM
Post a Comment