Sunday, April 17, 2005

Chantilly
We wanted to take a day trip somewhere with my father and his wife today. We ended up driving out to Chantilly, about 20 miles north of Paris. We drove straight to town and got a wonderful quick crepe lunch. Then we drove back to the Chateau.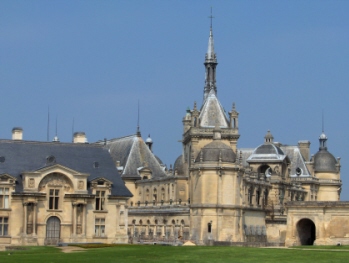 We've been to Chantilly a few times. It's easy to get to and has a beautiful chateau, an impressive art museum, grand park grounds and many things to entertain children.

My father and his wife checked out the Conde Museum, located in the Chateau. This museum has the largest collection of historical paintings in France, after the Louvre. While they were looking at the art, we headed to a rock climbing area. We'd been there before when the kids were much younger. They were much more confident climbing this time around. Here is my son on top waving.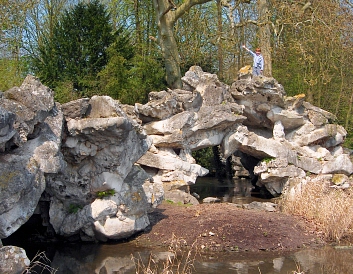 After some time, we all walked over to the children's playground. To get there you have to walk through Le Hameau area. These are cottages that were built by the Prince de Conde so he could host country-style dinners and late suppers. These hamlets were what inspired Marie Antoinette to build her own Hameau in Versailles. There are lots of things for the kids to explore in this area... canals, waterfalls, and a mini-labyrinth. My daughter remembered the "maze" from her last trip here and asked to try it again. She must have been impressed to remember it from two years ago -- when she was three.

I've just told you what we did today. There is so much more! There are electric boats to rent. The boats cruise on the Grand Canal, designed by Le Notre. There is a mini train to enable you to see much more of the nearly 285 acre estate. A kangaroo park is located at one end of the park. In the warm weather there are horse drawn carriages.

Additionally, if all this doesn't interest you, head a little ways down the road from the Chateau to the Living Museum of the Horse. I've actually never gone inside this building, but it's just beautiful on the outside.

Don't you agree?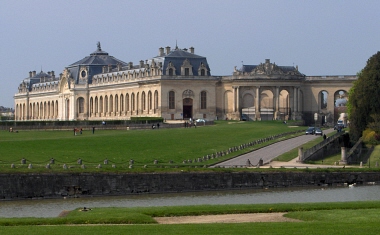 * Update. Considering my mother-in-law is a lacemaker, I forgot to mention that Chantilly France is also know for lace (and whipped cream, I might add)! There are many examples of the black Chantilly lace in the Conde Museum. In downtown Chantilly, there is a lace museum.

-- said Auntie M in Paris
11:21 PM

Comments:
Hi Auntie !
>>the Living Museum of the Horse. I've actually never
>>gone inside this building, but it's just beautiful
>>on the outside.
Great pic of the Museum ! The building is lavish: it contains the stables for the Prince's horses. The reason that the sables are so beautiful is that the Prince de Conde believed that after his death he was going to be reincarnated as a horse.
Chantilly is a town devoted 100% to horses, as is Newmarket in the UK.
L'Amerloque
#
posted by
L'Amerloque
: 8:12 AM
Post a Comment