Wednesday, April 27, 2005

Rainy Day
This week and next is the spring break in Paris. As usual, most of the French kids have left town for their country home and many of the other children left for a week trip somewhere. So my children often have only each other for their entertainment. Yesterday it rained and the kids needed to get out. So we took our scooters and rode around. They had so much fun riding through the puddles on the street.

It reminded me that on a rainy day a few weeks ago I looked out my kitchen window to find this beautiful rainbow. It was so long and brightly colored that I ran to take a picture.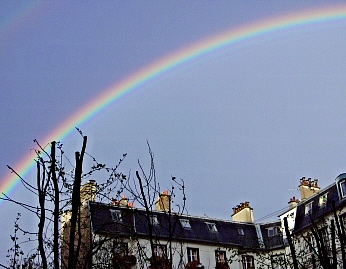 So, our rainy day turned into a damp, cold evening. We had our weekly "date night" scheduled for last night. Neither of us wanted to go far in this weather, so we decided on a local favorite.... our fondue restaurant and it is definitely not a middle of July meal. It's the best fondue place we've found in Paris. The ones in the Latin Quarter don't compare. I didn't think of you, dear reader, until the meal was almost over. It's just that good.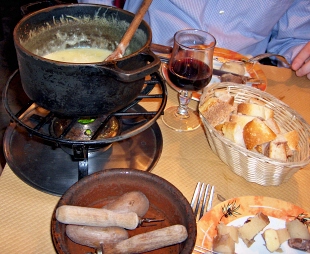 -- said Auntie M in Paris
6:25 PM

Comments:
I've never had fondue before...
They have this restaurant down here completely devoted to fondue, it's called "The Melting Pot." There's one down in Tampa. I've never been there, but their chocolate fondue is really really popular, where you can dip strawberries and stuff in. Those things have been like the ultimate treat for me since I was little. Last time I had one was when we went to Ghirardelli at Downtown Disney last year...
Have you been through the exodus of people that I hear happens every late July/August in the major European cities? That's just something we don't have here.
#
posted by
Joe
: 4:50 AM
Post a Comment