Tuesday, April 26, 2005

Tintin
I thought the
Tintin
exposition was really wonderful. If you are a fan of Tintin, or you have children who like the stories, go to Cheverny Chateau to see this exposition. It is a very interactive exhibit.
Tintin was created in 1929 by comic-strip artist Herge. Tintin is a reporter and has a faithful dog, Milou. There are 24 Tintin books, including one of Tintin in America.
The exposition references many of the books. The exhibit begins with a video from one of the stories. Then you enter a room that is a complete re-enactment of the room in the movie you just watched. Unlike a museum, the kids could actually touch everything. There were secret panels on the wall to find scenes from the book. One panel had a model boat from one of the stories. One room, from a story in the Calculus Affair (L'Affaire Tournesol), I believe, was essentially a haunted room.... lightening and storm sounds, the lights go out, noises from behind doors.... The kids loved it. The phone even rang and my son raced to answer it! No one was there.
Here is a picture of my son pretending to brush his teeth at the sink. This was a scene from TinTin L'Affaire Tournesol.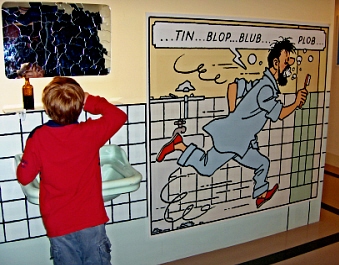 Here is my son with a prop from The Red Sea Sharks (Le Tresor de Rackham le Rouge).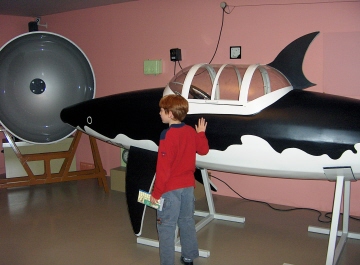 A final message from Herge. This is part of a large banner at the end of the exhibit.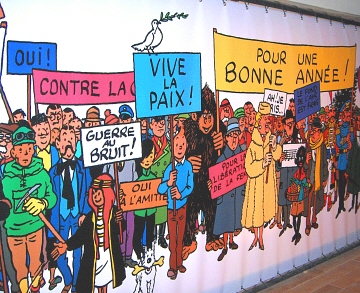 This was one of the best exhibits I've seen in a while. Go see it!
-- said Auntie M in Paris
11:13 AM

Comments:
Ooooh! Tin Tin! Lucky you were able to see this exhibit. Alot of times when I wear my Tin Tin t-shirt there will invariably be someone who comes to me excitedly and explains how they used to read Tin Tin when they were young and how much they still adore him and Milou. Then there are some who ask who that is on the t-shirt and (too bad) never knew of Tin Tin and Milou.
Tin Tin and Milou - an excellent example of loyal friends.
thanks for the post! Terry in SF
#
posted by Anonymous : 1:51 PM
Post a Comment